Harmony Guitars Launches Juno and Comet at NAMM 2020
MikesGig is supported by its audience. When you purchase through links on our site, we may earn an affiliate commission. Read the full disclosure HERE.
Following the launch of the Juno, Harmony revealed their next addition to their Standard Series: the Harmony Comet. Proudly made in the USA, the all-new Harmony Comet is a modern take on the iconic 1960's Harmony H-72 and marks the brand's first semi-hollow body guitar since its return in 2017.
The Harmony Comet
The Comet's familiar double-cutaway semi-hollow design boasts many of the Standard Series' key features like Harmony's proprietary gold foil pickups, hardware and premium woods, but also introduces new developments that are unique to the model. The Comet is Harmony's first set-neck design in the series, and also sports an immaculate carved back and top for the first time. The smaller, contoured body along with the C shape neck profile, 25" scale length, and 12-inch radius ebony fretboard, gives the Comet wider player-friendly appeal than many semi-hollow guitars in the market. The headstock's 6-in-line tuner design is also a nod towards the original H-72's unusual, but iconic look
Edwin Wilson, Head of Guitar Research & Development shares, "We've taken the same philosophy in designing our Standard Series models and applied it to the beloved H-72 and we're very happy with the way the Comet has come to life. The mahogany semi-hollow construction, combined with the Comet's set neck and our gold foil pickups, imparts a warmer and fuller tone that does not compromise on dynamics or clarity. This truly sets it apart from our solid body, bolt-on models.

"Harmony fans have been eagerly waiting for a semi-hollow to join the ranks and the Comet brings this classic design to the next level. Harmony fans will also appreciate the headstock's 6-in-line tuner design — a nod towards the original H-72's unusual, but iconic look. We can't wait to put this modern-day workhorse into the hands of professionals and semi-hollow enthusiasts looking to expand their tonal palette," says Wilson.

The Comet is available in Spring 2020 via select dealers.
The Harmony Juno
The Juno is what we imagine small body guitars to be — compact yet capable of powerful sound.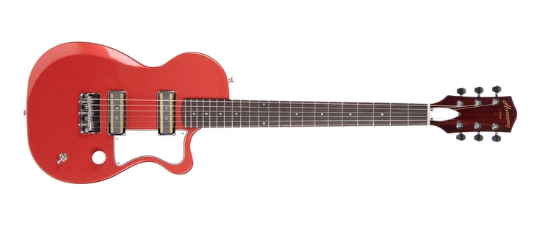 Its genuine mahogany body is lightweight, perfectly balanced and comfortable in anyone's hands. Crafted with a pair of hand-wound gold foil P90 pickups, the Juno offers warm and rich harmonics that roar with an attitude once you push this wonderful guitar further into overdrive.
Where to buy: