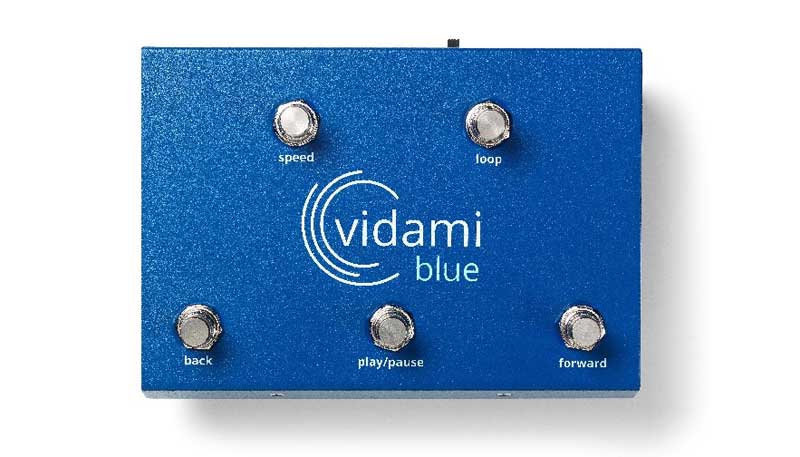 Hands-Free DAW Footswitch – Vidami® Blue Makes DAW Editing Faster Than Ever Before
MikesGig is supported by its audience. When you purchase through links on our site, we may earn an affiliate commission. Read the full disclosure HERE.
Vidami® introduces the Vidami Blue, a wireless multi-modal video control pedal that now connects via Bluetooth to computers and iOS mobile devices to make DAW editing easy and fast. Compatible with all of the popular digital audio workstations, Vidami Blue eliminates the struggles audio creatives have in fumbling to record, loop, add tracks, set markers, and more. With its time-saving, easy-to-use 5-switch functionality, Vidami Blue gives audio recorders wireless, hands-free control.
The next-generation Vidami Blue features two new modes, DAW (digital audio workstation) Mode and Page Turning/TAB Mode. In DAW Mode, players can record, loop, add tracks, and set markers on popular workstations, including GarageBand, Logic Pro, REAPER, Pro Tools, Studio One, Cubase, and Ableton Live. A natural extension to Video Mode, Page Turning/TAB Mode enables players to easily turn pages, scroll tabs/lyrics, and use other functions on their preferred digital sheet music apps and tab sites, including OnSong, forScore, the Ultimate Guitar website, and others.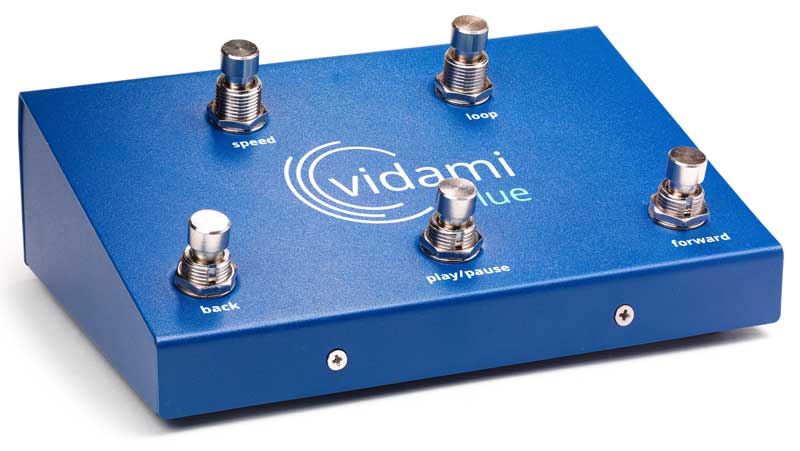 Additionally, Vidami Blue features the same Video Mode functionality as the original Vidami, with its ability to loop, slow down, and control playback of videos on more than 35 compatible online video learning platforms. The Bluetooth-enabled pedal gives players the ability to use Video Mode with their iPhone or iPad on Safari iOS 15 and Vidami's iOS Safari extension, making Vidami Blue the ultimate road companion for practice. Vidami Blue also runs via Bluetooth on Mac and PC desktop computers with Vidami's Chrome and Safari browser extensions.
Where to buy:
Made in America by a family-owned-and-operated company, Vidami Blue runs on a rechargeable lithium battery through Bluetooth connection with a 3-foot USB cable included for recharging only. The unit sells for $229.99 USD.
Visit www.vidami.com for demos and full system requirements.