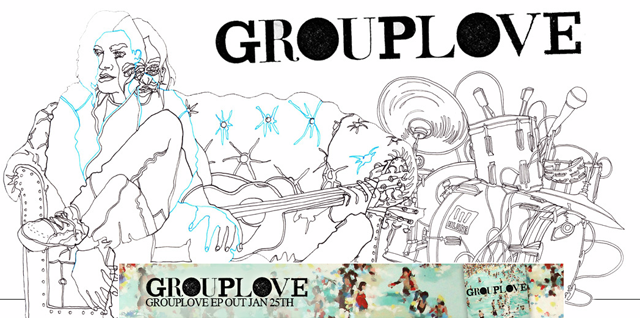 Grouplove music . . . in LA california
MikesGig is supported by its audience. When you purchase through links on our site, we may earn an affiliate commission. Read the full disclosure HERE.
Don't hate local newcomers Grouplove because they met and formed while spending a summer on the Greek Isle of Crete. They think it sounds silly too.
"We hate our story," says keyboardist/painter Hannah Hooper. "It sounds like we're all just like, 'Oh, let's just lead our amazing lives and go to Greece for the summer!' It's quite the opposite of that."
Two years ago Hooper was offered a first-year art residency in Greece for her work as a painter. With singer/guitarist Christian Zucconi in tow, the pair left New York for Europe, and met, randomly, their future bandmates: Drummer Ryan Rabin was in the midst of traveling abroad, bassist Andrew Wessen was in Crete to surf and Londonite/guitarist Sean Gadd was visiting a friend.
"We were just at a point where we were fed up with the monotony of our lives," Hooper says. "Christian and I sold everything to get those plane tickets, and those were the equivalent of a month's rent."
Going through Crete withdrawal, the newfound pals regrouped in Los Angeles, and their fiddling with instruments started to feel like more than a hobby. A friend of Rabin's signed on as manager, shows started being booked and it suddenly no longer made sense for the five piece to live in three different cities on two continents.
But enough with the formalities.
If Los Angeles music fans are heretofore ignorant of Grouplove, they're about to get a crash course in Grouplove's anthemic indie-pop oddities, as the band has the opening slot on Florence + the Machine's three-night, sold-out stay this weekend at the Wiltern. The groups share a booking agency in CAA.
"That's all our agent," Hooper says. "I wish that was more interesting. I want to say, 'I met Florence in the street and she was amazing and we hit it off.' But we'll meet her on Friday."
Come January, Grouplove will lead a residency at the Bootleg Theater, and a full-length is due in 2011 via Warner-affiliated Canvasback. For now, here's what you need to know:
What's with the hippie name? There's no jamming, and there's no everyone-just-needs-a-hug cheesiness to Grouplove's songs. Yet the band does have a Burning Man-friendly name. "Originally we were called the Group," Hooper says. "But on a boring business level, there was no way to copyright the word Group. And it was completely un-Googleable. As kind of 1960s as it is, the whole reason our band is a group is because of the love for one another. We've been getting some hippie titles."
Live, the band promises costumes — and masks. Hooper comes from the art world; her work can be seen on the cover for the Morning Benders' "Big Echo." With Grouplove, her goal is to give the audience something to watch rather than just listen to. "I feel like it's kind of sad when people talk at shows and aren't really engaged," she says. "We wanted to make it almost theatrical in a way, but not over the top. I wear a mask for certain parts of the show, when my voice changes. I kind of feel like I have two characters on stage." When Grouplove hits the Bootleg in January, Hooper promises new paintings and costumes every Monday.
The goal: Grouplove only has an EP to its name, and it's being re-released with new artwork after lawyers advised Hooper that her original cover painting looked to similar to John F. Kennedy. Yet it's also rather stylistically diverse. "Getaway" takes a mid-tempo approach, but it's laced with fuzzy, dreamy atmospherics, while "Giddy" goes straight for a slow-dance vibe, and "Don't Say Oh Well" is a hurried acoustic raver.
"In the fine art world, art writers want to talk about a body of work and what is similar about each piece," Hooper says. "They want to say you have a certain language to your work. That holds people back. Their goal became to make a body of work that's similar. That should never be the goal. The goal should be to make each piece unique. If they can talk to each other, that's a good thing, but if they can't, that is also a good thing. That's our approach to music."
–Todd Martens