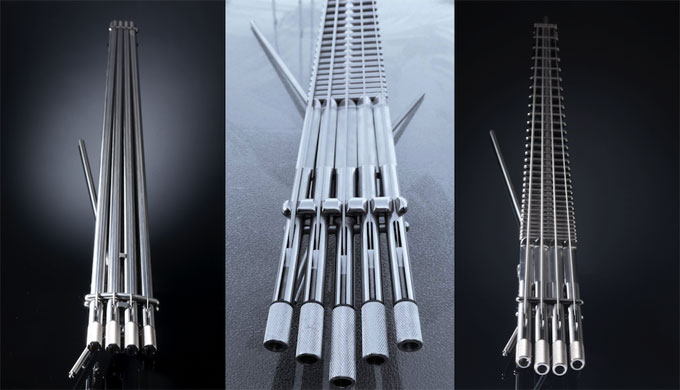 Gittler Instruments Introduces New Line of Titanium Bass Guitars at NAMM 2016
MikesGig is supported by its audience. When you purchase through links on our site, we may earn an affiliate commission. Read the full disclosure HERE.
This is a stunning minimalist instrument for the bass player who has everything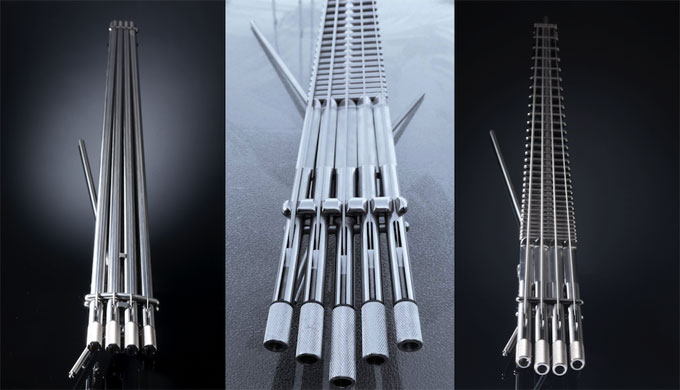 I met with Russ Rubman at NAMM 2016 to play the Gittler space age work of art bass guitar. Wow! This thing is amazing. Incredibly light yet responsive with a big bass sound. It takes a couple minutes to adjust to the feel of the form factor – the weight, the shape, the lack of a fretboard – but once you're dialed in, this is bass bliss. I need one.
Russ Rubman, a seasoned musician, titanium expert and CEO of Gittler Instruments, who re-launched the 1980's iconic Gittler Guitar in 2013 is now launching three new Gittler Bass Guitars. The original Gittler Guitar, made of stainless steel, resides in the permanent collection of both the New York Museum of Modern Art and the Boston Fine Arts Museum.
Continuing on the successful launch of the Gittler Guitar, Mr. Rubman and Yonatan Bar Rashi, percussionist and son of the original inventor of the instrument, Allan Gittler, have worked together to develop 4 and 5 string fretted basses and a fretless bass model.
Similar to the six string Gittler Guitar, these basses are manufactured of aircraft grade titanium with an optional weapons grade finish and weigh in at 6 to 7.2 pounds. The revolutionary design includes LED fret marker lighting patented tuning machines, complete MIDI implementation, headless design, innovative pickup architecture, 31 frets and the ability for players to expand across a broader range of notes.