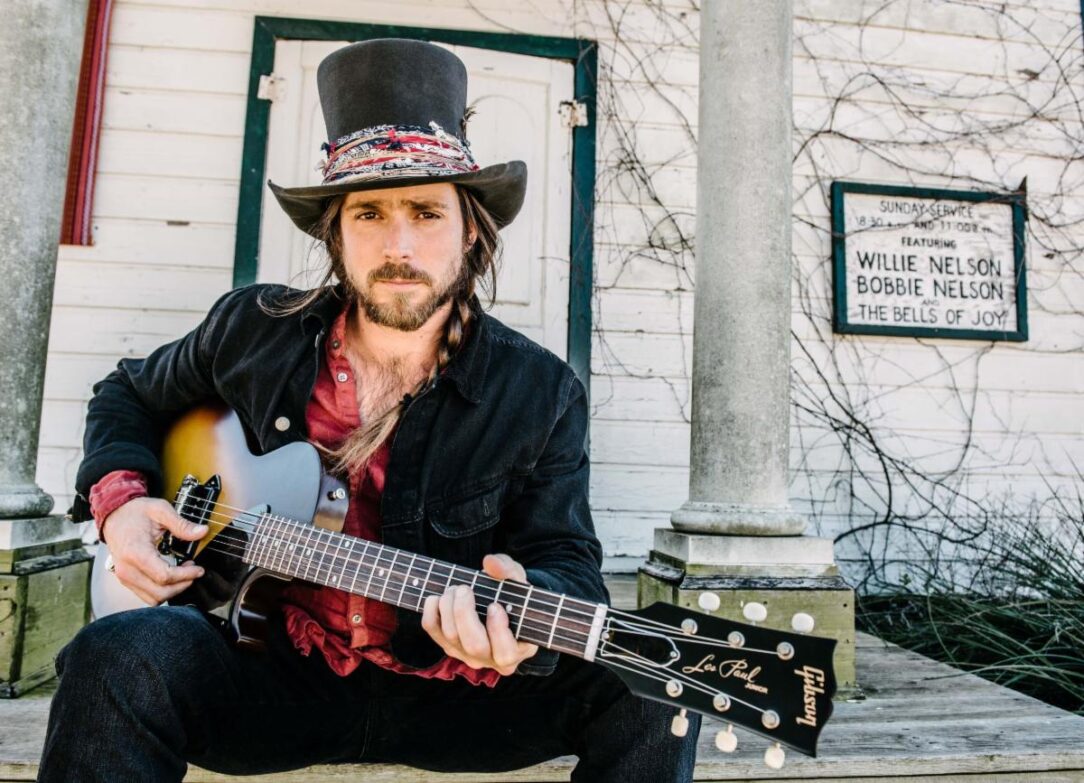 Gibson Lukas Nelson '56 Les Paul Junior Available Worldwide
MikesGig is supported by its audience. When you purchase through links on our site, we may earn an affiliate commission. Read the full disclosure HERE.
Gibson and Lukas Nelson have announced today, they'll release the first-ever Gibson USA Lukas Nelson '56 Les Paul Junior.
Lukas Nelson knows all about legacies, indeed he's been hard at work carving his own for most of his young, but extremely eventful life. This customized Gibson Les Paul Junior is inspired by Lukas Nelson's own 1956 Junior.
"The beauty of this guitar is that it is very versatile with the sound. In fact, I can get a lot of different tones just from the P90 and the way that I attack the strings and through the intonation and the vibrato that I give," says Lukas Nelson. "If I hit it lighter, it doesn't break up as much. If I get into it, it gets a lot of grit and dirt and breaks up. It's a versatile tone, which I'm pretty grateful for. Frankly, Gibson has been nothing but incredible to us -to me-since I've met them. And this guitar has taken me on a long journey. It's taken me to some amazing places, and I hope that a lot of other people get the same opportunity with their version of my guitar."
With his primary focus as the front man of Lukas Nelson & Promise of the Real over the release of six studio albums, four Eps and world tours, Lukas and the band have evolved into an emergent and vital force in American music. In song after song, on stage after stage, Lukas and POTR have sharpened the edges of their singular sound, one that nods to their influences while also pushing forward into uncharted territory. The never-ending road also beckons with additional projects, Lukas and his band POTR's frequent performances as Neil Young's band and of course, performances alongside his father in Willie Nelson & Family.
Lukas and Gibson's Luthiers worked closely to develop his Lukas Nelson '56 Les Paul Junior. Several prototypes were road tested by Lukas on tour over this past year and the end result is Lukas's vision. Based off his beloved 1956 Les Paul Junior which has been his main guitar for several years, the Lukas Nelson '56 Les Paul Junior is rooted in tradition with some modern enhancements. Like his original, the single cutaway slab Mahogany body, and neck are crafted of genuine Mahogany for its resonant tonal characteristics and moderate weight. The fat 50's-style neck profile feels smooth and comfortable while providing rigidity and sustain. It features a Rosewood fingerboard with dot inlays and medium jumbo frets for a vintage feel with modern playability. Finished in a deluxe satin Vintage Sunburst, this shade was developed to capture the same vintage patina of his original. The single, dog-ear P-90 pickup features Alnico III magnets and is voiced to replicate the tonal response that Lukas requires. The single volume and tone controls have gold speed knobs (as used in 1956) and are hand-wired featuring an orange drop capacitor and original spec 500k vintage audio taper pots. The aged nickel-plated hardware includes Vintage Deluxe strip style tuners w/ white buttons like the originals but feature a higher gear ratio for improved performance. The 50's style wraparound bridge provides the same look and solid resonance as the original, but it is made with a stealthy compensation contour to improve intonation accuracy. The new Gibson USA Lukas Nelson '56 Les Paul Junior will officially be available worldwide at all Authorized Gibson Dealers in August 2020.
Earlier this year, Lukas Nelson & Promise of the Real released Naked Garden via Fantasy Records. A companion to the group's highly acclaimed 2019 LP, Turn Off The News (Build A Garden), this 15-track collection captures the joyful spirit and creative intensity of POTR's 'News' with previously unreleased songs and alternate cuts that came out of those sessions at Shangri-La and Village Studios. Wide-ranging in scope and minimalist production Naked Garden embodies the band's shared spiritual connection and consummate musical chemistry. Guitarist/vocalist Lukas Nelson and his band, Promise of the Real which is rounded out by bassist Corey McCormick, drummer Anthony LoGerfo, percussionist Tato Melgar and multi-instrumentalist Logan Metz, teamed with John Alagia to produce Naked Garden. A few of the album's many highlights includes the studio version of fan favorite "Entirely Different Stars," the plaintive romance of "Movie In My Mind," a rough, early-stage version of "Bad Case," and Lukas's unearthly falsetto on the classic country waltz, "The Way You Say Goodbye."