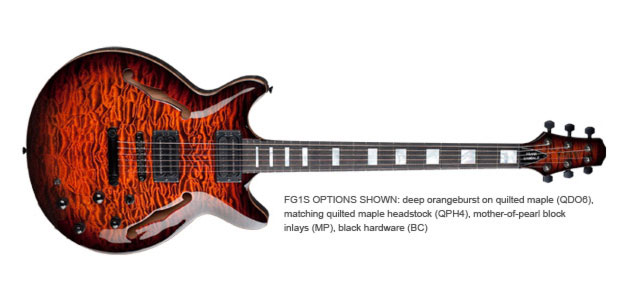 Frank Gambale FG1 Carvin Signature Model – NAMM 2011
Guitar. Songs. All about Music. Mikesgig was on hand for the press conference at NAMM 2011 for the introduction of this wonderful guitar. Mark Kiesel and Frank give up the juicy details that make this axe a true gem in the Carvin Custom Shop lineup.
MikesGig is supported by its audience. When you purchase through links on our site, we may earn an affiliate commission. Read the full disclosure HERE.
The Frank Gambale FG1 semi-hollow carved top guitar is the result of the latest collaboration between Carvin and Frank Gambale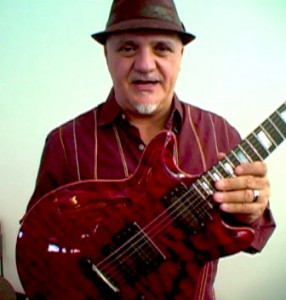 Mikesgig was on hand for the press conference at NAMM 2011 for the introduction of this wonderful guitar. Mark Kiesel and Frank give up the juicy details that make this axe a true gem in the Carvin Custom Shop lineup and why it was a "NAMM 2011 Top 10 Winner."
Frank worked closely with the Custom Shop to design a guitar that met his personal requirements, but would still be a pleasure for anyone to play. The FG1 takes many of the features found on the popular SH645, and incorporates Frank's personal touches in this exciting new instrument. Among the new features of the FG1 are a new neck profile and minimal neck heel designed to meet Frank's personal specifications and a new neck pickup, the FG22N. The FG1 is loaded with features generally only found in boutique instruments, but because Carvin sells direct, you don't have to pay a boutique price. And with hundreds of available options, you can build your FG1 exactly the way you want it, and be the proud owner of a totally unique instrument that will last you a lifetime.
Carvin starts with hand-selected mahogany for the body and neck. All of the neck, body and fingerboard woods undergo a long conditioning process in Carvin's de-humidification chambers to remove any stress in the wood and prevent future warping or twisting. The body is carved out for maximum resonance while maintaining stability, and the neck is set deeply into the body for increased sustain and strength. The mahogany construction produces warm tones, perfect for a semi-hollow guitar.
A beautiful AAAA flamed maple top is standard. But unlike most "archtop" style guitars, the FG1 features an actual carved top, not just a veneer that's bent into shape. The top starts out as a 2″ thick piece of solid curly flamed maple. After it is bookmatched, not only is the top sculpted, but the underside of the top is also carved to follow the contour of the top, increasing the overall size of the sound chamber and improving the tonal characteristics of the instrument. You can choose from any of Carvin's deep triple step finishes, which are applied to the top, the matching headstock, and the back of the instrument. Carvin's standard natural body binding effect nicely frames the top wood, and sets the top off from the mahogany body. You can also choose an optional AAAA quilted maple top, a flamed koa top, a flamed spalted maple top, or a burled maple top.
The FG1 features a standard 25″ scale ebony fingerboard with genuine abalone dot inlays, a 12″ radius and 22 vintage- sized nickel frets. The neck profile is custom sculpted to meet Frank's specifications, and is designed for comfortable playability. You can choose from a wide assortment of neck options, including rosewood, maple, flamed maple or birdseye maple fingerboards; dot, diamond, Signature or block inlays in mother-of-pearl or genuine abalone; and fingerboard radii of 10″ or 14″. Standard frets are Vintage size, measuring .043″ tall X .080″ wide. Carvin offers a number of fretwire options, including medium-jumbo, jumbo, low-wide and stainless steel. Carvin's "Rapid Play" low action neck assures effortless playability throughout the entire fingerboard, while Frank's custom-designed minimal neck heel allows easy access all the way up to the 22nd fret. The fully-adjustable dual action truss rod allows you to set the action exactly the way you want it. The standard headstock is our 3 X 3 CT-style, as found on our California Carved Top Series, and is adorned with a 24K gold plated Carvin logo and "Frank Gambale" engraved truss rod cover.
The standard bridge consists of a tune-o-matic bridge for perfect intonation and a stop tailpiece. Sperzel™ locking tuners ensure your FG1 will stay in tune, no matter what your playing style is. Standard hardware is chrome, with gold or black optional.
Standard pickups consist of a Classic Series C22B humbucker in the bridge position, and the new Frank Gambale FG22N humbucker in the neck position. The FG22N is clean and warm, and versatile enough for all styles of music. Electronics consist of two volume and two tone controls, with a 3-way pickup selector. Each push-pull tone control doubles as a coil splitter, allowing dual to single coil operation of the humbucking pickups.
Carvin also offers the FG1S, which has all the same premium features of the Frank Gambale FG1, with the inclusion of Graph Tech's acclaimed synth access electronics as used in the SH575, NS1 and other Carvin synth access guitars.
Carvin has a unique purchase policy that allows you to test the "real world" performance of a guitar. Take 10 days to try out a Carvin FG1 and if you're not completely satisfied, you can return it – no questions asked. You would only be responsible for the return shipping.
The FG1 is built at Carvin's Custom Shop in San Diego, California.