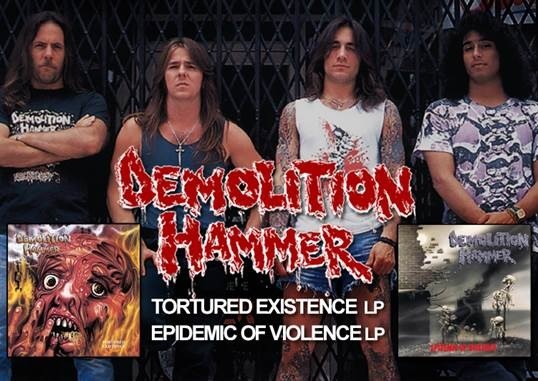 DEMOLITION HAMMER – Vinyl reissues of "Tortured Existence" and "Epidemic Of Violence" OUT NOW!
MikesGig is supported by its audience. When you purchase through links on our site, we may earn an affiliate commission. Read the full disclosure HERE.
Today, Century Media Records have released DEMOLITION HAMMER's quintessential "Tortured Existence" (1990) and "Epidemic Of Violence" (1992) on vinyl again! Featuring heavy 180g wax and the original cover artworks, these are must-haves for any thrashing lunatic out there!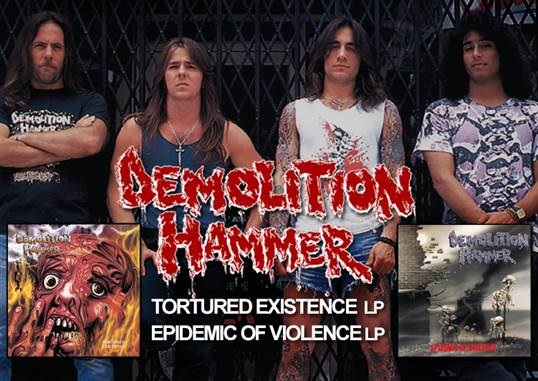 DEMOLITION HAMMER "Tortured Existence (Re-Issue 2015)"
black LP – limited to 600 copies
gold LP – limited to 200 copies (only available via CMDistro.com / European & US webshop)
white LP – limited to 200 copies (exclusive to CMDistro.com / US webshop only!)
DEMOLITION HAMMER "Epidemic Of Violence (Re-Issue 2015)"
black LP – limited to 600 copies
silver LP – limited to 200 copies (only available via CMDistro.com / European & US webshop)
transparent blue LP – limited to 200 copies (exclusive to CMDistro.com / US webshop only!)
Get your copy here: http://smarturl.it/DHCMDistro
To get a powerful reminder of this brutal thrash band, check the following links:
"Infectious Hospital Waste" from "Tortured Existence":
https://www.youtube.com/watch?v=etrb25WNE4A (Original video clip)
https://soundcloud.com/centurymedia/demolition-hammer-infectious-hospital-waste
"Aborticide" from "Epidemic Of Violence":
http://youtu.be/uN9nqZ4ohoQ (Static vid)
http://www.muzu.tv/demolition-hammer/aborticide-video/2358662/
Also, the US website Invisible Oranges featured DEMOLITION HAMMER in last week's "Upcoming Metal Releases" section under "Boss Reissues", check it out here:
http://www.invisibleoranges.com/2015/03/upcoming-metal-releases-312015-372015/
Don't forget to also visit the band's official facebook page where you can crawl through loads of old photos and more: https://www.facebook.com/pages/Demolition-Hammer/33021961306