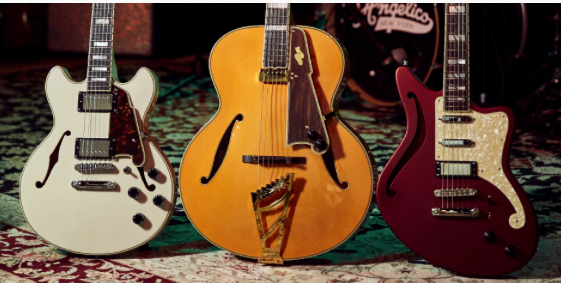 D'Angelico Guitar Giveaway At NAMM 2020 — And You Don't Have To Be There!
MikesGig is supported by its audience. When you purchase through links on our site, we may earn an affiliate commission. Read the full disclosure HERE.
The NAMM Show is just a few days away and D'Angelico Guitars special announcements lined up every day for you, so make sure you're opening your emails, following along on social, and if you're in town for the show, make sure you stop by their room 212AB, for some killer performances, chats with artists, and of course, lots of giveaways.
This morning, D'Angelico let the secret out about their Deluxe Bedford SH, a semi-hollow spin on their flagship solid-body. If you haven't checked it out, click here! There are only 50 of each finish available worldwide. They will be officially available through our dealers on Thursday.

More announcements to come. Follow at @dangelicony for live updates at the show.
OH… and about that GIVEAWAY…
We're so excited to launch these new guitars, we're kicking off the show with a giveaway, open not just to attendees, but to all of our fans! We'll debut the prize on site at the show, but the giveaway starts NOW!
How to enter:
Click the link below for the official giveaway page or visit us in person at the show in room 212AB to scan your badge.

For more chances to win, repost/share photos or videos of the new products we're launching and use #dangeliconamm. You'll see lots of posts and video allover our pages that you can share! We'll select a winner from the entries.