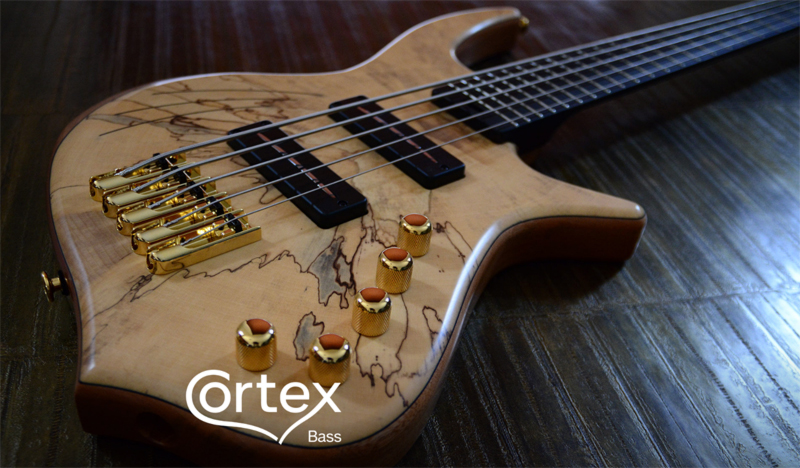 Cortex Bass Company Launch at NAMM 2020
MikesGig is supported by its audience. When you purchase through links on our site, we may earn an affiliate commission. Read the full disclosure HERE.
A collaboration between Swiss entrepreneur, Pierre Camilleri, and French luthier, Paul Lairat presents the first of its new line of basses at the 2020 NAMM show.
Napoleon bass
Offered in two versions, Standard and Deluxe, in 4 or 5 string. Fretless and 6 string versions will follow shortly.
The Standard version offers a two-piece body, made of alder or red willow. The neck wood is American hard maple and the fret board is rosewood. It is a "simple" passive bass, offered either with Norstrand Big Blade or Dual Coil, or Aguilar DCB pickups. Each pickup has its own volume, but one tone knob controls both pickups.
The Deluxe version is a triple wood layer sandwich, made of a mahogany two-piece body, a dark/light laminate, and a top, book matched to center. The headstock offers a matching plate to the body top and the neck wood is always something special, either figurative maple, walnut or mahogany, and optionally padouk, purpleheart or even quilt maple. For the rare occasion, we even offer 3-7 piece necks, depending on what types of wood we receive. We have paired preamps with the available pickups, as the Deluxe offers active electronics, that sometimes also include a passive switch. We are also lucky to be able to supply the Duvoisin pickups coupled with their 3-volt electronics.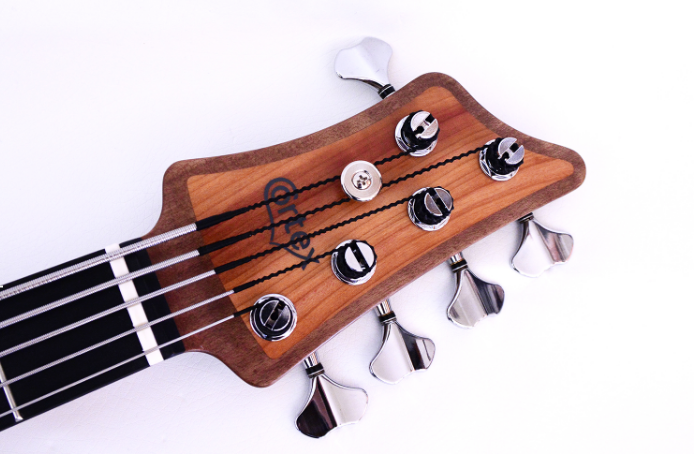 Napoleon Deluxe – Poplar Burl Top (Shown in the video)
Type: Deluxe, 5-string, Bolt-on bass
Scale: 34″
Body: 3-layer wood sandwich
– Mahogany two-piece body
– Dark Laminate
– Poplar Burl Top, bookmatched to center (option)
Shape: Cortex Bass Napoleon
Finish: Satin coating
Neck Wood: Chocolate Maple
Neck Thickness: 20.5mm (nut); 22mm (12th fret)
Compound Radius: 10.5″ (nut); 26″ (24th fret)
Fret Board: Ebony, 24 frets
Position Inlays: White dots 2mm
Nut: Bone, 45mm wide
Hardware: Black
Tuners: Gotoh GB707
Bridge: Cortex Bass
Weight: 4.2kg / 9.2lbs (average)
Electronics:
Nordstrand Big Blades pickups, coupled with Glockenklang 3 Band preamp
– Volume (push/pull passive switch)
– Blend
– Bass
– Medium
– Treble (Passive: Tone)
__________________________________________
All Cortex Basses are made in France and hand finished by Paul Lairat.
Cortex Basses are delivered with a free gig-bag and a Certificate of Authenticity, signed by Cortex Bass & Paul Lairat.
*All prices exclude taxes. Shipping fees are complimentary for the EU & Switzerland.
To order or ask questions, we suggest the "Practical" page or the following e-mail:
Mikes Notes:
This bass collaboration between Pierre Camilleri and Paul Lairat is a fine piece of work. The wood parts are CNC cut in Switzerland and then delivered to Paul Lairat in France where they are finished, assembled and set up. They have an innovative placement of the 5th string tuner that may contribute to the overall evenness of output and response across all strings. The B is beefy yet not overbearing.
This bass plays the way you would expect a Lairat bass to play – easy, fast, articulate – but at a price point that is quite a bit less than a hand sculptured Lairat. Expect a wide range of tones – two thumbs up.