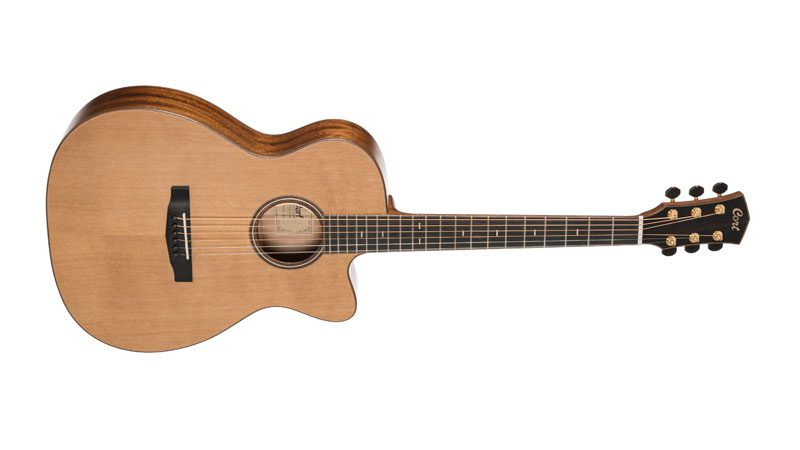 Cort Introduces New Advanced Acoustic Guitar Line Aimed at Finger-Style Pickers
MikesGig is supported by its audience. When you purchase through links on our site, we may earn an affiliate commission. Read the full disclosure HERE.
The Cort Flow-OC features a completely redesigned neck profile to improve playing comfort and versatility. With its visual and tonal warmth, and a dual-source preamp that helps to ensure lively and natural tones, the Flow-OC is a reliable companion for acoustic players of any style.
Despite its laid-back name, the Flow Series is meticulously detailed, the result of expertly carried out research and tests to launch an innovative guitar series most suited for fingerstyle players. The design of the Flow-OC begins with a solid red cedar top and solid mahogany back and sides. Compared to various species of spruce, cedar is softer and has less density for a responsive feel and open sound. Tonally, it's dark and has a strong and rich midrange for warm fundamentals and bright overtones. Cedar can sound loud with even light picking attack and touch, making it an ideal choice for this model. When paired with mahogany, the deep warmth in the low-mids is enhanced, while the top-end remains sweet and clean.
Solid Red Cedar Top with Solid Mahogany Back & Sides…
OM Cutaway Body Shape…
Hand-Rolled Body & Fret Edge Treatment…
Ebony Bridge & Pins…
25.5"(648㎜) neck scale with 1 3/4"(44.5㎜) nut width…
L.R. Baggs® Anthem…
Graph Tech® TUSQ Nut & Saddle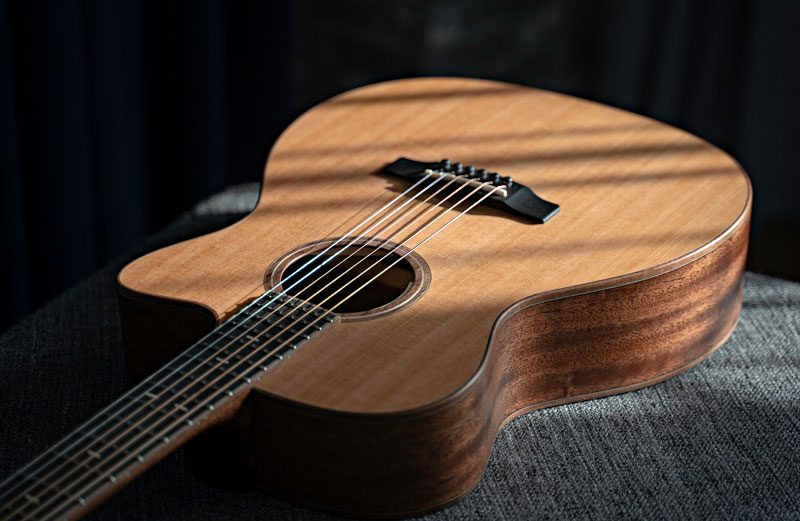 The Flow-OC's high-end is further enhanced by its compact OM cutaway (orchestra model) body shape. Not only is the shape ideal for players with a smaller body frame or those seeking more playing comfort, but the bright and strong high-midrange is better suited for fingerpicking than strumming, which often requires more low-end. The Venetian cutaway allows players easy access to the high frets, further enhanced by a low-profile slim neck heel that's great for playing on the higher frets and is less "in the way" of the playing hand. The neck heel design and dovetail neck joint maintain solid tone transfer between the neck and body. Walnut binding and a Natural Satin finish provide strength and simple beauty.
A standout of the Flow-OC is its redesigned Ergo-A asymmetric neck profile, optimized for comfort, quicker movement, and versatility. The Flow-OC features a 25.5-inch neck scale with a 1 3/4-inch nut width, widely regarded as the "gold standard" among fingerstyle players for its optimal string spacing and string tension. Underneath, the mahogany neck is reinforced with two special inserts of walnut for added rigidity and stability to withstand various types of fingerstyle playing. On the 20-fret surface, a jet-black ebony fretboard adds cleaner tone definition thanks to its rock-solid rigidity. The new "dash" fretboard inlay, made from brighter-colored maple, is applied in contrast to dark ebony and is exclusive to the Flow-OC.
Another standout feature of the Flow-OC is the hand-rolled body and fret edge treatment. The sharp edges on the body, fretboard, and frets are hand-rolled to make them round, smooth, and ultra-comfortable to touch and play. The process is highly complex and time-consuming, and requires the skilled workmanship of experienced craftsmen.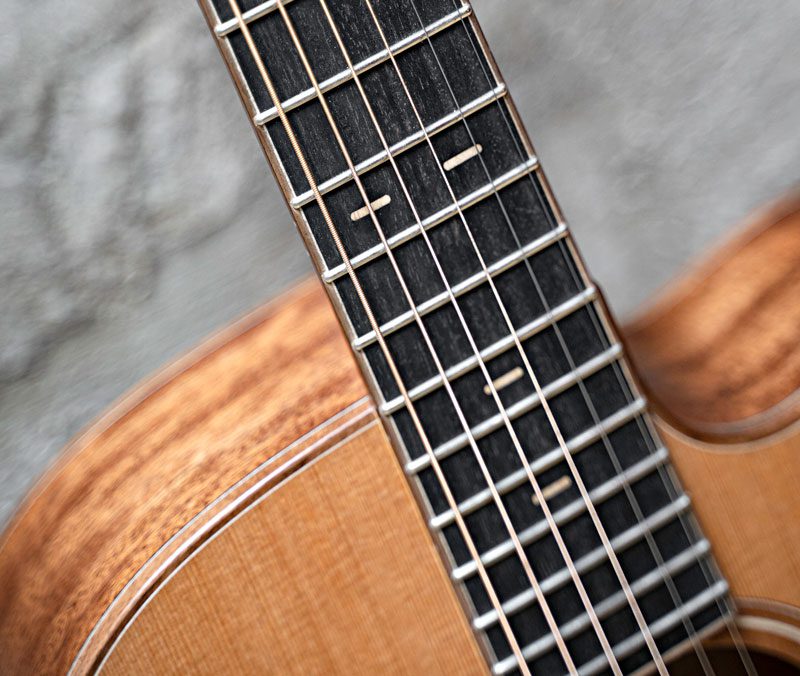 With emphasis placed on the Flow-OC's natural tonewoods, the L.R. Baggs® Anthem delivers pure acoustic vibrations to the amplifier and PA without any coloration. The player can control unwanted feedback easily and effectively using the system's minimalistic controls that don't interfere with the look of the instrument. The Anthem features L.R. Baggs' patented TRU•MIC technology, seamlessly combining a proprietary condenser microphone with the manufacturer's Element pickup to deliver the warmth and fidelity of a studio-mic'd guitar for any live performance.
Even the "extras" of the Flow-OC are carefully selected, from top to bottom. The gold-colored tuners with ebony keys are a fitting match to the calm and elegant aesthetic and offer great tuning stability. The nut and saddle are made from Graph Tech® TUSQ, an advanced polymer formed under high heat and pressure, which transfers string energy more efficiently so guitars come alive with improved harmonics, volume, and sustain. Finally, at the bridge, high-density ebony keeps the fundamental acoustic sound focused and tight with greater sonic projection than plastic and enhanced string vibrations.
Where to buy:
A strong, elegant guitar for fingerstyle playing, Flow-OC features several enhancements typically reserved for much higher-priced instruments. This model is available at a MSRP price of $2299.99 USD, street price of $1599.99 USD with an included deluxe soft-side case.
Learn more about Cort's Flow Series and other fine instruments at www.cortguitars.com.