Broadcasting at Home Solution For Professional-Quality Audio From Digigram
MikesGig is supported by its audience. When you purchase through links on our site, we may earn an affiliate commission. Read the full disclosure HERE.
Digigram's IQYOA X/LINK-LE Codec Offers Musicians Professional-Quality Audio While Broadcasting at Home. Digigram's codec offers satellite radio-quality broadcasts with no dropouts.
As more and more artists are taking to social media to broadcast live performances to their fans, poor audio abounds. Enter Digigram's IQOYA X/LINK-LE: a 1U rack IP audio codec designed for live remote broadcasting over IP networks, including web radio. With the help of a free web streaming site, such as Caster.fm, and an IQOYA X/LINK codec, an artist can now broadcast live with professional-quality audio, all from their living room. The IQOYA X/LINK-LE bridges a user's studio gear, virtually turning the internet into their worldwide P.A. system.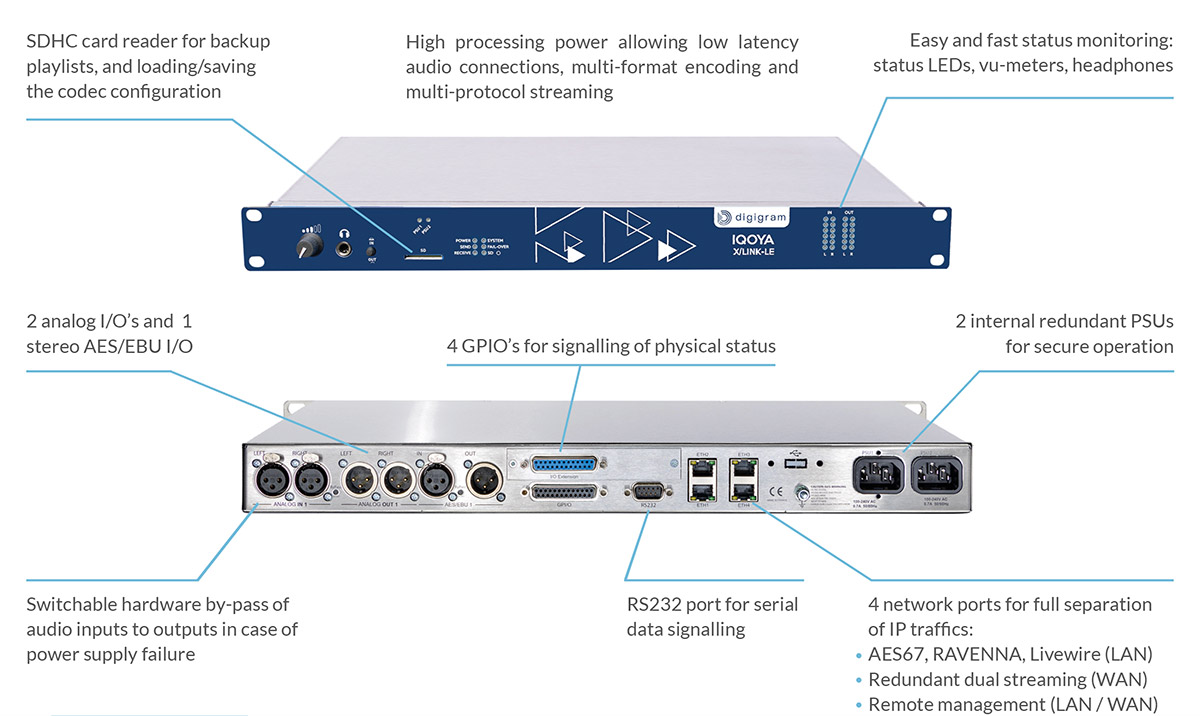 "The IQOYA X/LINK is a dedicated hardware solution that does one thing: makes a reliable connection every time with no software burdens," explained Derek Badala, Director of Sales, Americas for Synthax, Digigram's U.S. distributor. "The alternative is using your computer with a software codec which requires an audio interface, adding more latency, several variables and signal routing challenges. Connecting a dedicated hardware codec like the X/LINK to a musician's mixer can free up their computer to be used for their usual live performance tools, such as virtual instruments, playback tracks, virtual processors or any other solution they would need during a typical live gig."
Where to buy:
The IQOYA X/LINK-LE is easily configured to broadcast to a user's web streaming account. This allows a musician to then share a link from their account with fans so they can listen in to their performance and enjoy satellite-quality audio with no dropouts.
"This is a robust web streaming solution for artists featuring a dedicated box with a dedicated purpose: to turn it on and go live," Badala said. "Listeners can listen for hours without any clicks, pops or drop-outs — just pristine audio."
For more information on Synthax, visit: https://www.synthax.com/
For more information on Digigram, visit: https://www.digigram.com/