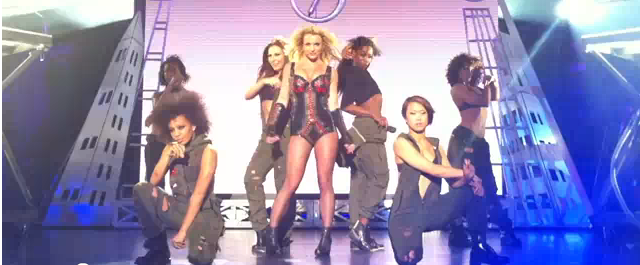 Britney Spears performing Till The World Ends
MikesGig is supported by its audience. When you purchase through links on our site, we may earn an affiliate commission. Read the full disclosure HERE.
Britney Spears performing Till The World Ends in Las Vegas.
&
Britney Spears is back and better than ever! Two new songs found their way around the Internet this morning, and it seems that Spears has done it again.
The leaked tracks include "I Wanna Go," produced by Max Martin and Shellback, and "Inside Out," produced by Dr. Luke, Max Martin and Billboard, reports celebrity news site TooFab.com.
Although her new album, "Femme Fatale," is not scheduled for release until March 29, die-hard Spears fans won't have to wait to hear the soon-to-be chart toppers.
Britney Spears Busts Out Songs From New Album 'Femme Fatale'
The comeback singer transformed herself into a pop vixen for a live performance in San Francisco on Saturday night.
Clad in a revealing leather basque, Britney's appearance was a far cry from the casually-dressed mother of two who frequently ventures out in saggy clothes and unkempt hair tied in a lazy bun.
Sources:  http://www.foxnews.com, News Media,