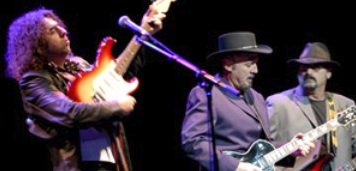 Bob Dylan Tribute Band Highway 61 Revisited, Free Concert
Bob Dylan tribute band Highway 61 Revisited plays free concert at Monmouth County Library, Free Concert in New Jersey.
MikesGig is supported by its audience. When you purchase through links on our site, we may earn an affiliate commission. Read the full disclosure HERE.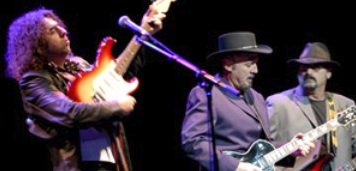 Celebrate a true cultural icon. Come hear the Bob Dylan tribute band Highway 61 Revisited in a free concert at the Monmouth County Library Headquarters at 2 p.m. on Sunday, Jan. 30.
The band will be joined by a special guest — violinist Scarlett Rivera, who played on Dylan's Desire album and toured with him on the Rolling Thunder tour.
Highway 61 Revisited recreates, with stunning authenticity, Dylan's greatest music. The band plays both an acoustic and an electric set that includes many of Dylan's best known songs. Singer Joel Gilbert happens to look and sound amazingly like Dylan — without ever making the mistake of trying to copy him.
Highway 61 Revisited will also be joined at this free library concert by bass player Rob Stoner, who played on the Rolling Thunder tour; and both drummer Winston Watson and guitarist John Jackson, who both toured with Dylan on the Never Ending tour.
The Library is located at 125 Symmes Drive in Manalapan. Doors open at 1 p.m. Seating will be on a first come, first served basis, and the Library will close the auditorium when it is at capacity.
For more information on this concert, please call the library at 732-431-7220. For more information on programming at the Monmouth County Library, please visit our website at http://www.monmouthcountylib.org
Rolling Stone, Highway 61 Revisited – Bob Dylan
Bruce Springsteen has described the beginning of "Like a Rolling Stone," the opening song on Bob Dylan's Highway 61 Revisited, as the "snare shot that sounded like somebody'd kicked open the door to your mind." The response of folk singer Phil Ochs to the entire album was even more rhapsodic. "It's impossibly good. . . ." he said. "How can a human mind do this?"
Recorded in a mind-boggling six days and released in August 1965, Highway 61 Revisited — named after the road that runs from Dylan's home state of Minnesota down through the Mississippi Delta — is one of those albums that, quite simply, changed everything. In and of itself, "Like a Rolling Stone," which was rumored to be about Andy Warhol acolyte Edie Sedgwick, forever altered the landscape of popular music — its "vomitific" lyrics (in Dylan's memorable term), literary ambition and sheer length (6:13) shattered limitations of every kind. But that was literally only the beginning. "Ballad of a Thin Man" delivered the definitive Sixties comment on the splintering hip/ straight fault line: "Something is happening here, but you don't know what it is/Do you, Mr. Jones?" If anyone questioned whether or not Dylan had truly "gone electric," the roaring rock & roll of "From a Buick 6" and "Tombstone Blues" — both powered by legendary guitarist Mike Bloomfield — left absolutely no doubt.
The album ends with "Desolation Row," a swirling eleven-minute surrealist night journey of indescribable power. Confronted with the dilemma of providing an ending to an album so bursting with ideas, Dylan evokes a Hieronymus Bosch-like season in hell that, in retrospect, seems to foretell all the Sixties cataclysms to come. "The Titanic sails at dawn," he sings wearily near the song's end. "Everybody is shouting, 'Which side are you on?' " That "Desolation Row" is an all-acoustic track — a last-minute decision on Dylan's part — is one final stroke of genius: a spellbinding new vision of folk music to close the album that, for the time being at least, destroyed folk music. The gesture was simultaneously touching and a devastating "Fuck you!"
Not that Dylan wasn't having fun all the while as well. The toy siren that opens the album's title track was keyboardist's Al Kooper's playful way of policing the sessions for Highway 61 Revisited. "If anybody started using drugs anywhere," he explained, "I'd walk into the opposite corner of the room and just go whooooooooo."
Credits: Freehold in New Jersey.
Free Concert in New Jersey, New Yorkers can come to see this free concert too.