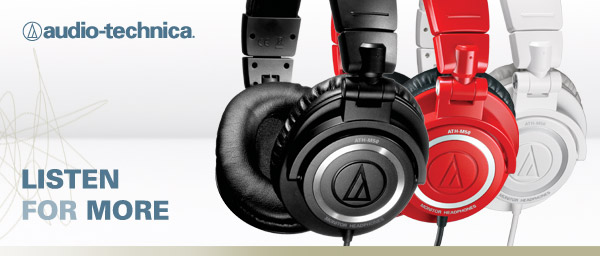 Audio-Technica ATH-M50 Headphones Review – How are they after 36 months?
MikesGig is supported by its audience. When you purchase through links on our site, we may earn an affiliate commission. Read the full disclosure HERE.
Update: 2016
It has been another 36 months and here is the current condition of the Audio-Technica ATH-M50 Headphones. The ATH-M50 are premium tracking and mastering headphones that suffer from poor quality of materials manufactured in China. I have experienced numerous "high-end", top brand products, that are either manufactured in China or assembled from Chinese made components, that have prematurely failed due to poor quality of base materials. Rubber and vinyl items like trim, shoe soles, elastic bands and weather stripping are the worst.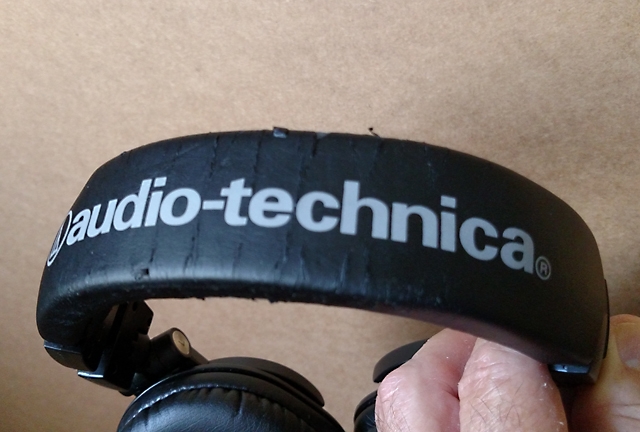 At the 2014 NAMM Show Audio-Technica upgraded the ATH-M50 to the ATH-M50x with, as they say, "Professional-grade earpad and headband material delivers more durability and comfort for extended wear."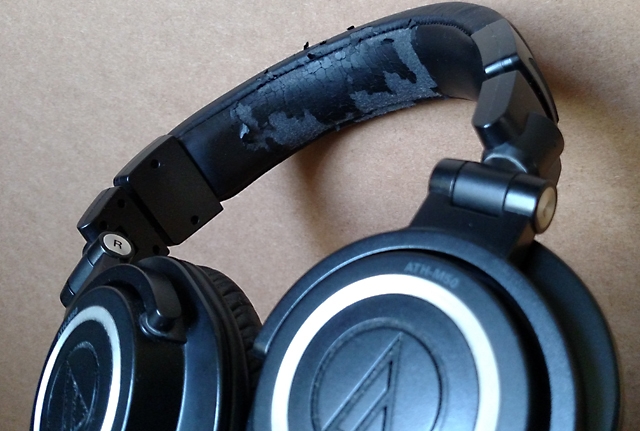 Following is the review of the ATH-M50 published in 2010 and the report of the Audio-Technica factory repair in 2013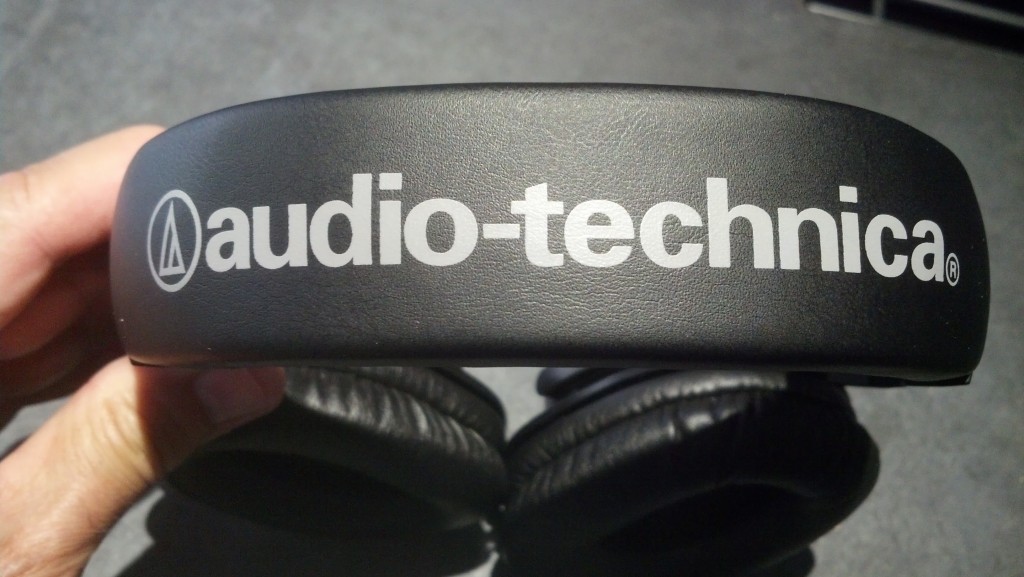 Update: Retreads Anyone?
After posting the following 36 month review I wondered what would happen if I returned my ATH-M50 phones to the factory. I went to the support page http://www.audio-technica.com/cms/site/9de91ac2563eaf16/index.html  that explains the easy procedure to return product for repair. I wrote a short and polite note about my disappointment with the build quality and asked them to dispose of the phones if they could not be repaired. I thought that was the end of it. To my surprise, I received an email in a week with tracking info for a package heading my way. All defective parts were replaced at no cost and the phones are "better than new." The new cups and head band are much cushier and more comfortable than the original. Good job AT!
Stay tuned for my next update…in 36 months or so.
Original review follows…
These Phones Sound Real Good
The first thing I noticed is the even response. No hyped bass like some sets. Listening for hours at a time is not fatiguing even though there is a slight pressure on the ears and the top of the head from the ear cups and head band. Slightly heavier than K-240s but with better isolation – you can't talk to me when I have these on. I've used these with good result for both tracking and mastering and really like the defined, punchy and non-boomy sound of bass guitar.
Build Quality
My only issue with these phones is the build quality. After only 36 months of personal light use the vinyl coating on the cups and headband is disintegrating at an alarming rate – little bits of black vinyl falling here and there. Wonder what's happening to the inside? In a commercial studio setting under constant use they would surely be in much worse shape. By contrast, the 20 year old K240s that they replaced are in great shape – except for the missing name badges. Like many things built in China these days, the price is low but so is the mileage.
But they still sound great.
Time for some duct tape?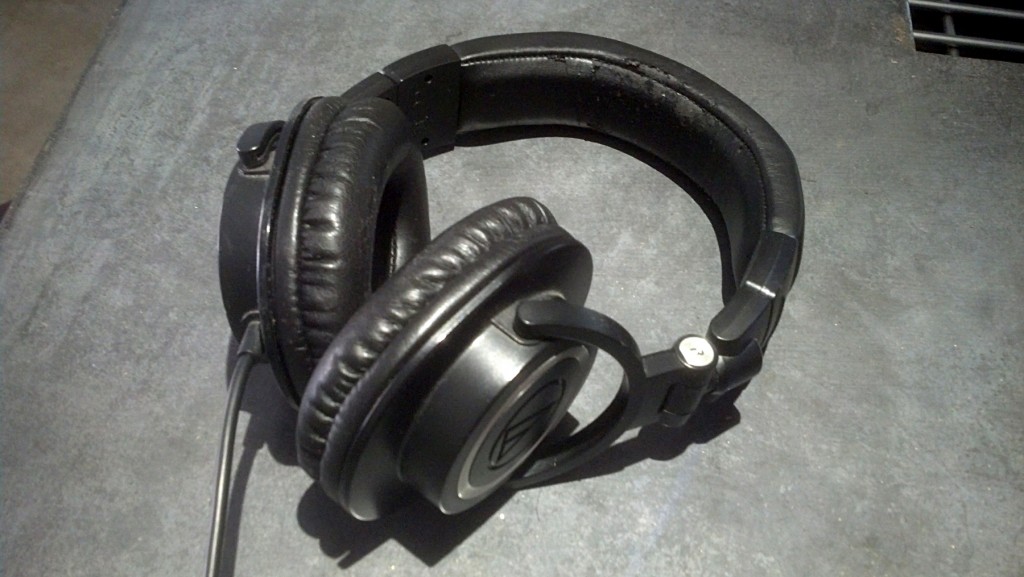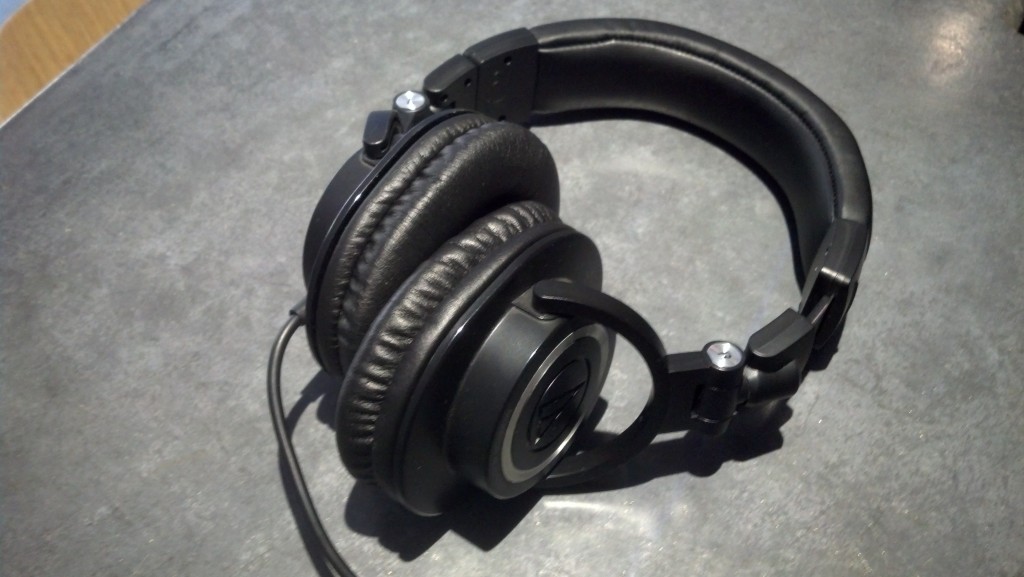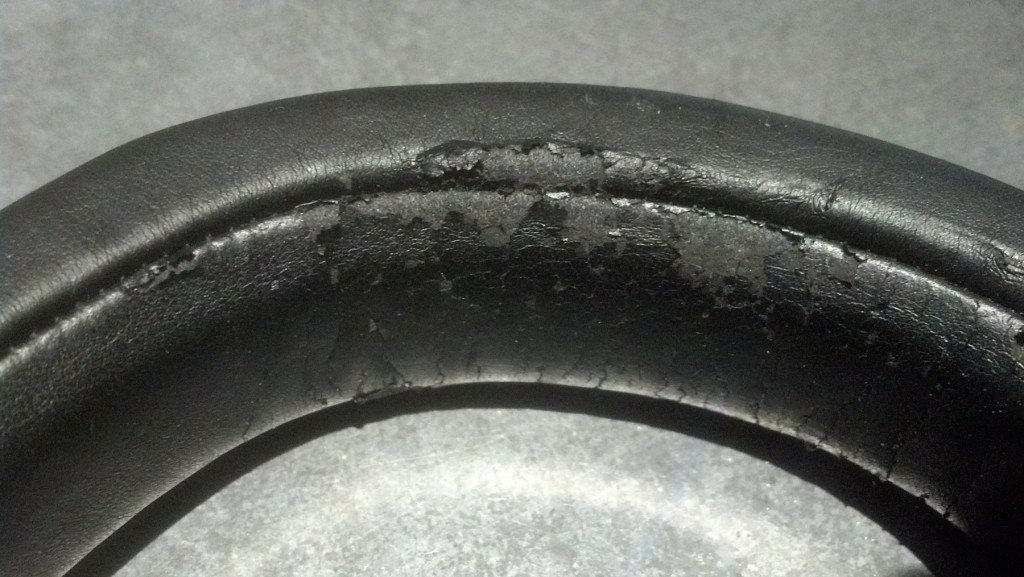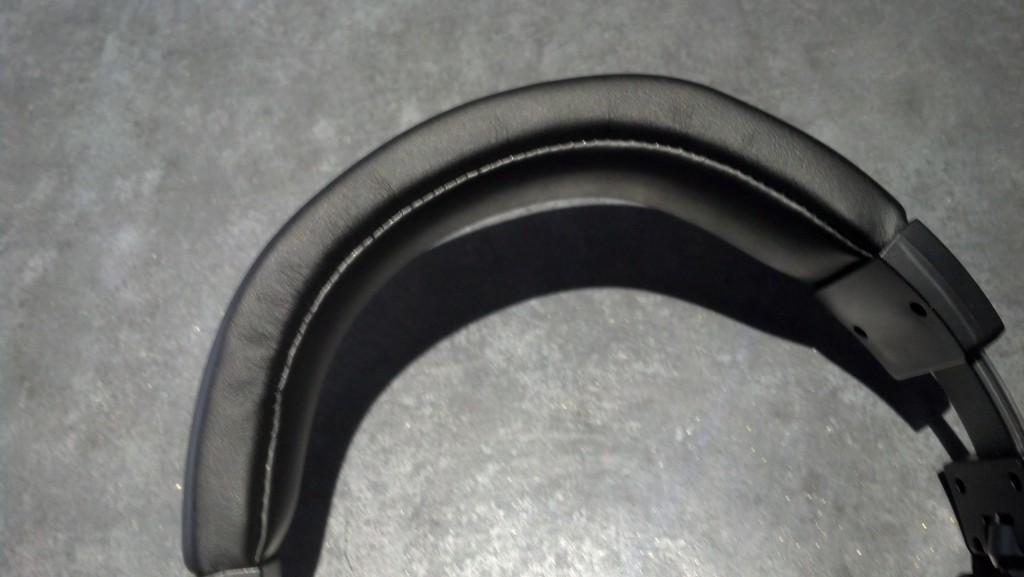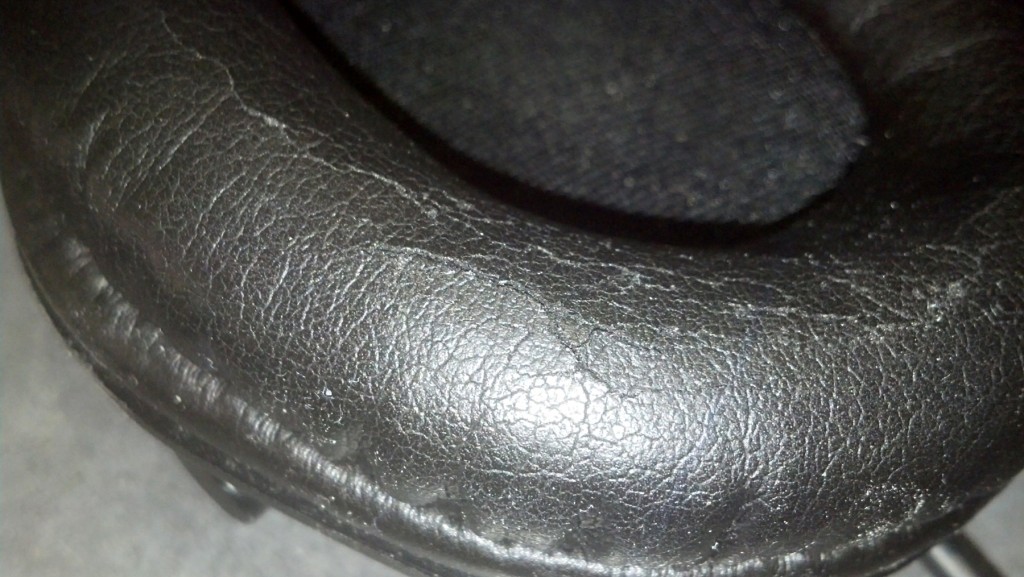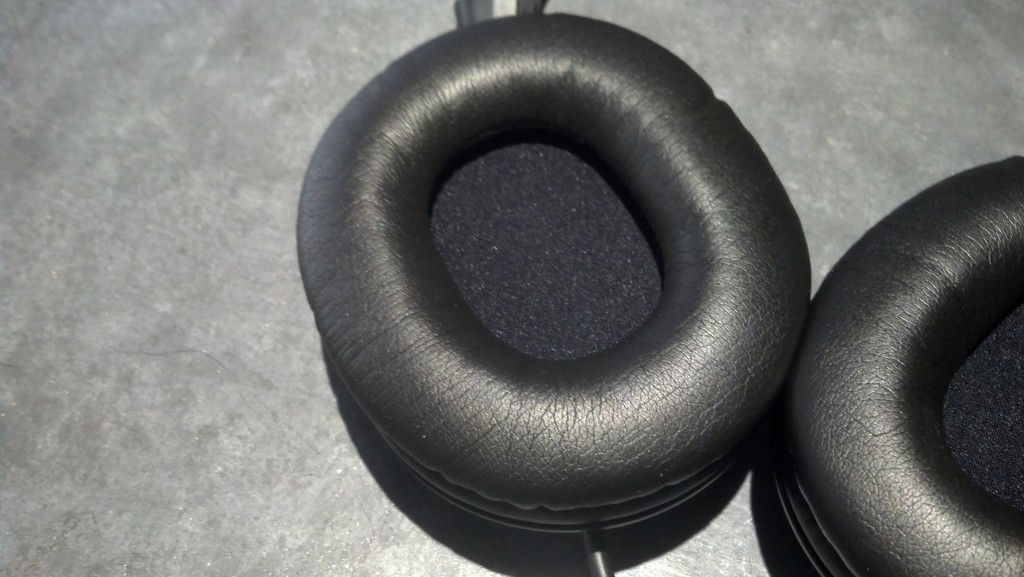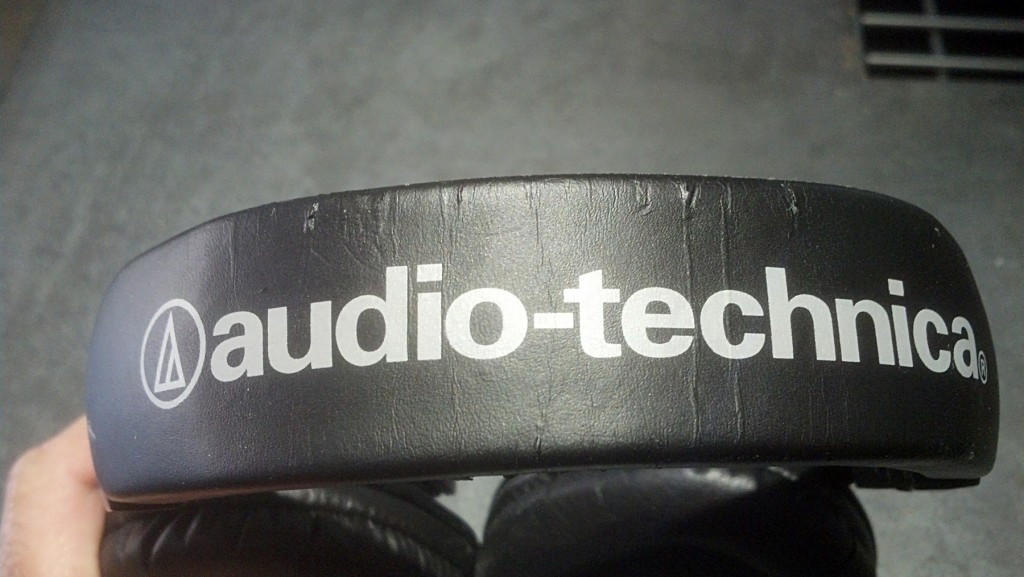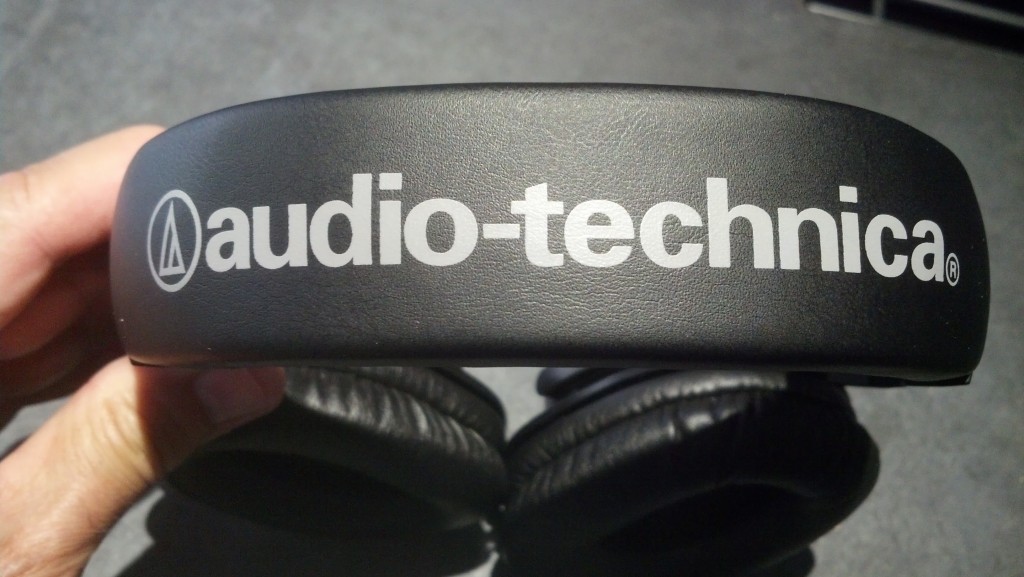 ATH-M50s ("S" for straight cord)
Professional Studio Monitor Headphones
Audio-Technica's acclaimed ATH-M50 studio monitor headphones deliver natural response throughout the entire frequency range, without hyping or diminishing sounds along the way.
– Now offered in a new limited-edition red, in addition to the original black and white models
– Natural response ideal for professional monitoring and mixing
– Collapsible design for easy portability and convenient storage
– Proprietary 45 mm large-aperture drivers with neodymium magnet systems
– Closed-back cushioned earcups for isolation
– Adjustable padded headband for comfort during long mixing/recording sessions
***duct tape optional