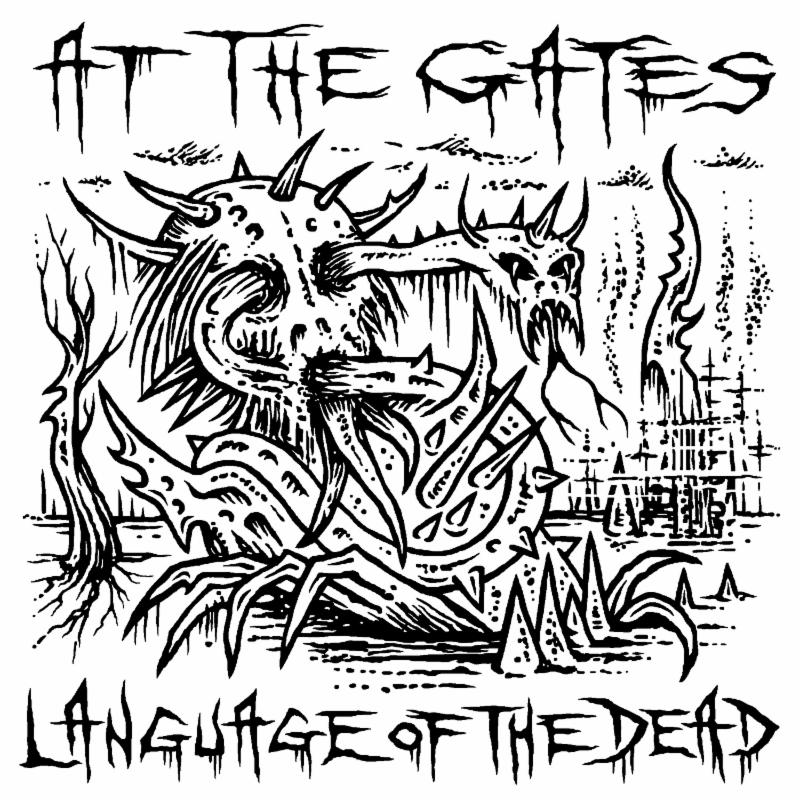 AT THE GATES announces split 7″ EP release with VOIVOD
Having just wrapped up some touring in Asia, Scandinavia as well as through Spain, Swedish melodic death metal pioneers AT THE GATES will soon be back on the road again in support of their much acclaimed comeback studio album and Century Media Records debut, At War With Reality. First up, AT THE GATES will embark on the Decibel Magazine Tour together with CONVERGE, PALLBEARER and label-mates VALLENFYRE across North America, starting March 27th. See here for more details: http://www.decibelmagazinetour.com and also check out the tour-related cover feature for the current April issue of Decibel Magazine here: http://store.decibelmagazine.com/collections/back-issues/products/april-2015-126 and a tour trailer here: http://youtu.be/v_heON7K9pU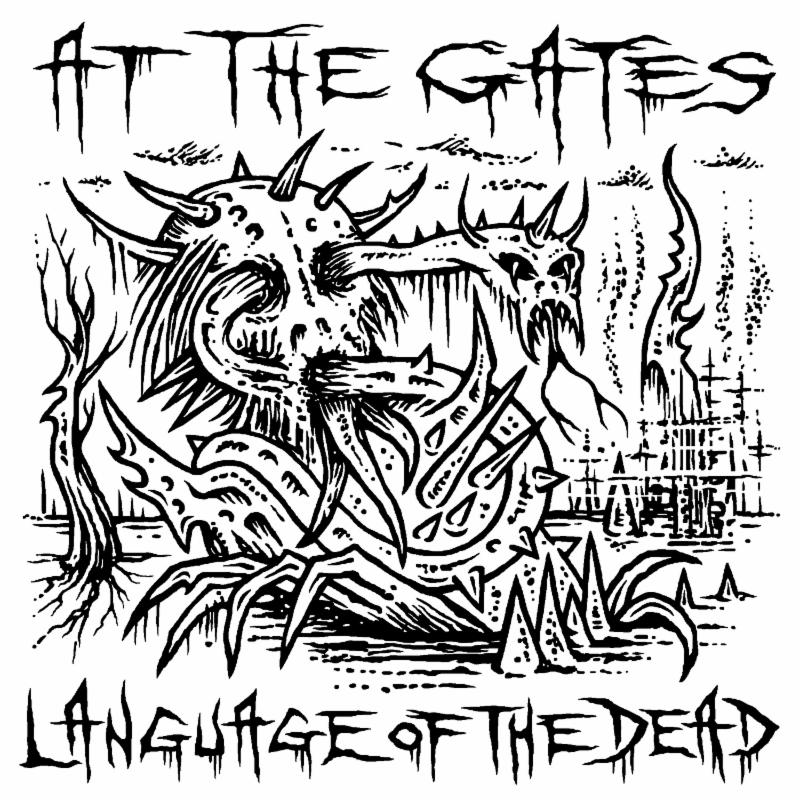 To coincide with the start of the tour, AT THE GATES will release a very special split 7″ EP together with label-mates VOIVOD on April 6th. The 7″ EP will feature the AT THE GATES bonus track "Language Of The Dead" from the At War With Reality sessions (previously unreleased on vinyl!), while VOIVOD contribute the new song "We Are Connected". The EP is "Double A-Sided" (meaning, each band has their own, reversible front-cover side!) and comes with artwork created for both bands by VOIVOD's Michel "Away" Langevin.
The 7″ EP will be available in the following limited worldwide editions:
–1,000x copies black vinyl
–500x copies white vinyl
–500x copies transparent red vinyl
The 7″ EP will be on sale during AT THE GATES' North American tour, but is also available for pre-order from CM Distro as of now. Get it here before it's too late: http://smarturl.it/ATGVVsplitCMD
AT THE GATES were recently awarded with both a Swedish Grammy ("Grammis", category: Best Hard Rock / Metal album) as well as with the Swedish independent music award "Manifest" for At War With Reality. The album entered national sales charts upon release in several countries: Sweden: #3, Germany: #25, USA: #53, Finland: #15, Austria: #39. Switzerland: #51, UK: #132, UK Rock Charts: #13, Belgium (Flemish): #78, Belgium (Wallonia): #162, Greece: #38, France: #119 and Japan (Oricon International): #17.
Promotional video links for At War With Reality are below:
"Heroes And Tombs": http://youtu.be/ctXRhv90Gz8
Within Germany: http://www.muzu.tv/at-the-gates/heroes-and-tombs-official-video-video/2320747/
"Death And The Labyrinth": http://youtu.be/hzjshF0TFm8
Within Germany: http://www.muzu.tv/at-the-gates/death-and-the-labyrinth-official-video-video/2310520/
Various physical formats of At War With Reality can be ordered from CM Distro in North America here: http://www.cmdistro.com/catalogsearch/result/?q=at+the+gates
See below for all upcoming AT THE GATES tour dates, including some recently announced festivals (updates marked *):
AT THE GATES – live 2015
Mar. 27, 2015 – Los Angeles, CA – The Wiltern / Decibel Tour + CONVERGE, PALLBEARER & VALLENFYRE
Mar. 28, 2015 – San Francisco, CA – The Regency Ballroom / Decibel Tour + CONVERGE, PALLBEARER & VALLENFYRE
Mar. 29, 2015 – Portland, OR – Roseland Theater / Decibel Tour + CONVERGE, PALLBEARER & VALLENFYRE
Mar. 30, 2015 – Vancouver, BC – Commodore Ballroom / Decibel Tour + CONVERGE, PALLBEARER & VALLENFYRE
Mar. 31, 2015 – Seattle, WA – Showbox at the Market / Decibel Tour + CONVERGE, PALLBEARER & VALLENFYRE
Apr. 2, 2015 – Salt Lake City, UT – The Complex / Decibel Tour + CONVERGE, PALLBEARER & VALLENFYRE
Apr. 3, 2015 – Denver, CO – Summit Music Hall / Decibel Tour + CONVERGE, PALLBEARER & VALLENFYRE
Apr. 4, 2015 – Lincoln, NE – Bourbon Street / Decibel Tour + CONVERGE, PALLBEARER & VALLENFYRE
Apr. 5, 2015 – Minneapolis, MN – Mill City Nights / Decibel Tour + CONVERGE, PALLBEARER & VALLENFYRE
Apr. 6, 2015 – Chicago, IL – House of Blues / Decibel Tour + CONVERGE, PALLBEARER & VALLENFYRE
Apr. 8, 2015 – Toronto, ON – The Phoenix / Decibel Tour + CONVERGE, PALLBEARER & VALLENFYRE
Apr. 9, 2015 – Montreal, QC – Metropolis / Decibel Tour + CONVERGE, PALLBEARER & VALLENFYRE
Apr. 10, 2015 – Boston, MA – Royale / Decibel Tour + CONVERGE, PALLBEARER & VALLENFYRE
Apr. 11, 2015 – Philadelphia, PA – Union Transfer / Decibel Tour + CONVERGE, PALLBEARER & VALLENFYRE
Apr. 12, 2015 – New York, NY – Webster Hall / Decibel Tour + CONVERGE, PALLBEARER & VALLENFYRE
May 1, 2015 – Örebro (Sweden) – Ritz + TRIBULATION
May 2, 2015 – Sundsvall (Sweden) – Pipeline + TRIBULATION
May 22, 2015 – Warszawa (Poland) – Progresja
May 23, 2015 – Kraków (Poland) – Studio
May 29, 2015 – Cape Town (South Africa) – The Mercury Live
May 30, 2015 – Johannesburg (South Africa) – Carfax Club
Jun. 16, 2015 – Rome (Italy) – Ippodromo Capannelle + SLIPKNOT *
Jun. 19, 2015 – Copenhagen (Denmark) – Copenhell Festival
Jun. 20, 2015 – Dessel (Belgium) – Graspop Metal Meeting
Jun. 21, 2015 – Clisson (France) – Hellfest
Jul. 3, 2015 – Hassleholm (Sweden) – Siestafestivalen
Jul. 16, 2015 – Tokaj (Hungary) – Kingdom of Hegyalja Festival *
Jul. 18, 2015 – Syðrugøta, Faroe Islands – G! Festival
Jul. 31, 2015 – Wacken (Germany) – Wacken Open Air
Aug. 6, 2015 – Gävle (Sweden) – Getaway Rock Festival
Aug. 8, 2015 – Jaromer (Czech Republic) – Brutal Assault Festival
Aug. 15, 2015 – Cetatea Rasnov (Romania) – Rockstadt Extreme Fest
Sept. 4, 2015 – Bogotá (Colombia) – Teatro Metropol *
Sept. 18, 2015 – Gothenburg (Sweden) – Liseberg
Nov. 7, 2015 – Leeds (UK) – Damnation Festival *
AT THE GATES online:
http://www.atthegates.se
https://www.facebook.com/AtTheGatesOfficial
Tweets by AtthegatesGBG
http://www.youtube.com/atthegatesofficial