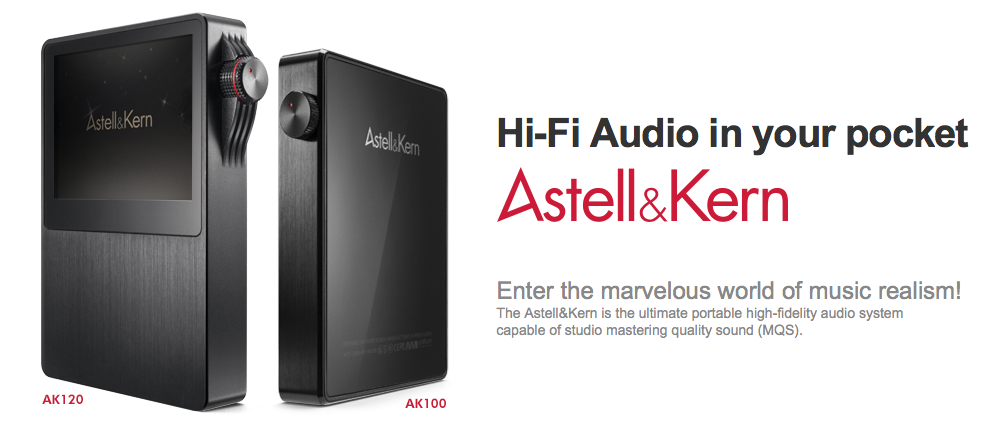 Astell&Kern AK100 High Resolution Portable Audio Player Is The Perfect Player for New and Seasoned Audiophiles
MikesGig is supported by its audience. When you purchase through links on our site, we may earn an affiliate commission. Read the full disclosure HERE.
The AK100 Includes Features Found In More Expensive Units For Less Money Including the Playback of 24bit WAV or FLAC Formats
The Astell&Kern AK100 High Resolution Portable Audio Player is the first portable audio player from the Astell&Kern line of audiophile products.   Designed for both the person new to high-fidelity sound and those people who have championed the cause for years, the AK100 gives audiophiles the ability to carry their high resolution music with them at all times.  It's like having your high-end home system with you wherever you go.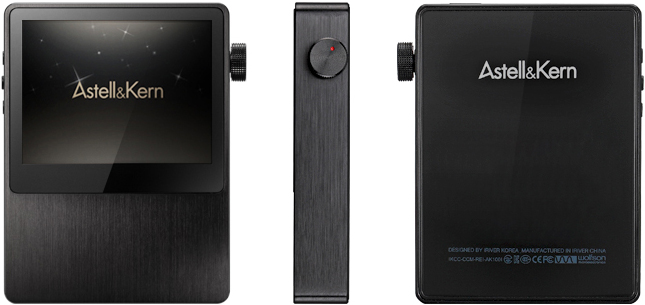 The Astell&Kern player is the first portable hi-fi audio device from iriver, capable of Mastering Quality Sound (MQS) playback. MQS files are sound or music files saved as a lossless format, straight from the studio mastering source. Because less data is lost during the digital mastering process and the sound quality is distortion-free, a dramatic difference from the 24bit source data from MQS files and CD (WAV)/MP3s can be heard and felt. MQS files are often in 24bit WAV or FLAC formats. With the encoding process in the AK100 MQS Portable System, MQS music and sounds are more refined and pure.
Henry Park, CEO of iriver, says, "Music is an important part of life.  Music creates passion and emotion in people.  We wanted to give people the ability to listen to music on the go the way it was meant to be heard, how the artist and sound engineers envisioned it.  People need to hear every nuance, every instrument, every subtle sound without compromise to the sound quality that is present in current portable players.  We feel the Astell&Kern line of high resolution portable audio players achieves this goal.  The AK100 has gotten numerous praise from both audiophiles and press around the world."
The Astell&Kern is the world's first portable audio device equipped with the Wolfson WM8740 Digital-to-Analog Converter (DAC).  It contains 32GB of internal memory and can be expanded via two (2) microSD card slots, each supporting an additional 32GB microSD card.  The Astell&Kern is compatible with FLAC, WAV, WMA, MP3, OGG, APE, AAC, ALAC and AIFF audio files, so users can play both new high definition audio and their current collection of digital music including the most popular Apple formats, all with one player.  Its 2,000 mAh battery provides up to 16 hours of playback on a single charge. The Astell&Kern offers numerous connection options, including micro-USB, optical in/out and headphone out.  Other features include multiple home screen themes, gapless playback and the ability to use the AK100 as an external optical and USB DAC.
Iriver has partnered with HDtracks to provide users with albums encoded with Mastering Quality Sound. HDtracks is a high-quality music download service offering an exciting catalog of Mastering Quality music from every major label across all genres.  They have several formats available for fans of all types of music. If you would like genuine CD-quality sound, HDtracks offers both AIFF and FLAC lossless files. For those who wish to carry their music in a portable mp3 player, they have 320kbps files that far exceed the quality of standard MP3 files.  For audiophiles, HDtracks has a large catalog of ultra-high resolution 96kHz/24bit and 192kHz/24-bit titles from legendary rock, jazz, and classical artists as well as emerging artists. This is true DVD-audio sound quality for music lovers that demand the very best!
For a complete list of high-end audio retailers in your area carrying the Astell&Kern or more information about the Astell&Kern line, please visit www.AstellnKern.com.