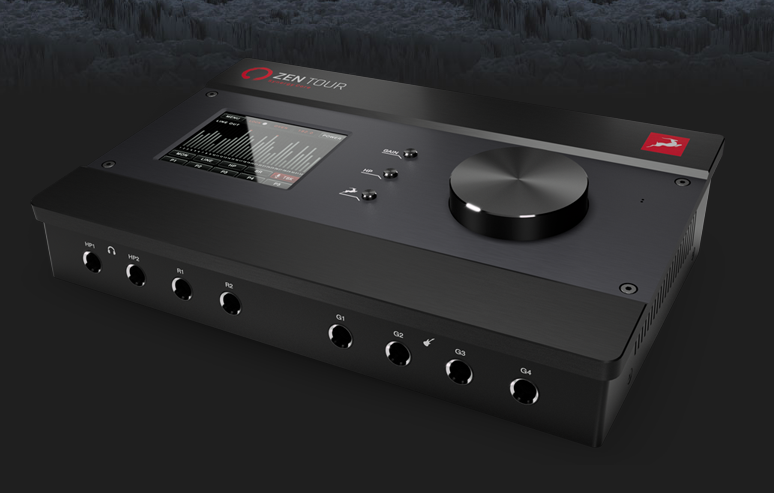 Antelope Audio Introduces Two New Powerful Audio Interfaces at NAMM 2020
MikesGig is supported by its audience. When you purchase through links on our site, we may earn an affiliate commission. Read the full disclosure HERE.
The sleek and powerful Antelope Audio Zen Tour Synergy Core and GALAXY 64 Audio Interfaces deliver extreme utility and precision to the recording process.
What's New in the Zen Tour Synergy Core
The Antelope Audio desktop recording interface grows even more powerful. Without getting much bigger, the Zen Tour Synergy Core brings the following upgrades from the original Zen Tour:
• 4x DSP + 2x FPGA Synergy Core low-latency effects and audio engine processors
• Improved AD/DA conversion – up to 130dB DNR, on par with Orion Studio Synergy Core
• 2x increase in channel count (32 channels at sample rates up to 192kHz)
• Thunderbolt™ 3 & USB 2.0 cross-platform connectivity for Mac / Windows
• Support for new Synergy Core-exclusive effects like Auto-Tune Synergy, Opto-2A, MES-432C, Comp-4K-Bus and others
• 8 DC-coupled line outputs for CV applications like controlling modular synthesizers
• Discrete ultra – linear microphone preamps

The GALAXY 64 interface is the world's first 64-channel AD/DA converter
Featuring all industry-standard analog and digital I/O within a 2U rack space, including 64 channels of analog in and 64 channels of analog out, Thunderbolt™ 3, DANTE, AES/EBU, HDX and MADI, the GALAXY 64 is equipped to handle all audio going in and out of your production facility or live venue.

DIGITAL & NETWORK CONNECTIVITY
• 2 Dante ports – audio over IP – up to 64 channels
• 2 Thunderbolt™ 3 ports– up to 64 channels
• 4 HDX ports for Pro Tools integration – up to 128 channels
• Synergy Core effects processing platform – 12xDSP + 3xFPGA
• AES, оptical MADI & S/PDIF digital connectivity
• Daisy-chain support over, Thunderbolt 3 & optical MADI
• Redundancy support over Dante
ANALOG CONNECTIVITY
• 64 channels of analog inputs over 8 x D-SUB 25
• 64 channels of analog outputs over 8 x D-SUB 25
CLOCKING SYSTEM
• 64-bit Acoustically Focused Clocking jitter management algorithm
• 10M reference input over BNC
• Loop-sync & word clock over BNC