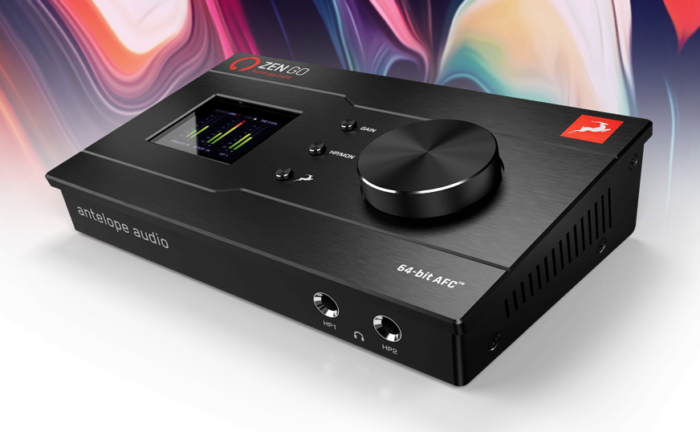 Antelope Audio Introduces The Zen Go Synergy Core 4×8 Bus-Powered USB-C Audio Interface
MikesGig is supported by its audience. When you purchase through links on our site, we may earn an affiliate commission. Read the full disclosure HERE.
This sleek and sexy pocket-sized powerhouse interface elevates portable recording to new level of quality and affordability
Zen Go Synergy Core is the first ever bus-powered desktop interface packed with tech featured only in high-end professional studios, giving you instant access to premium sound quality wherever you are. Our vast library of Synergy Core analog-modeled effects lets you shape your sound with precision and character – all while monitoring in real-time with imperceptible latency.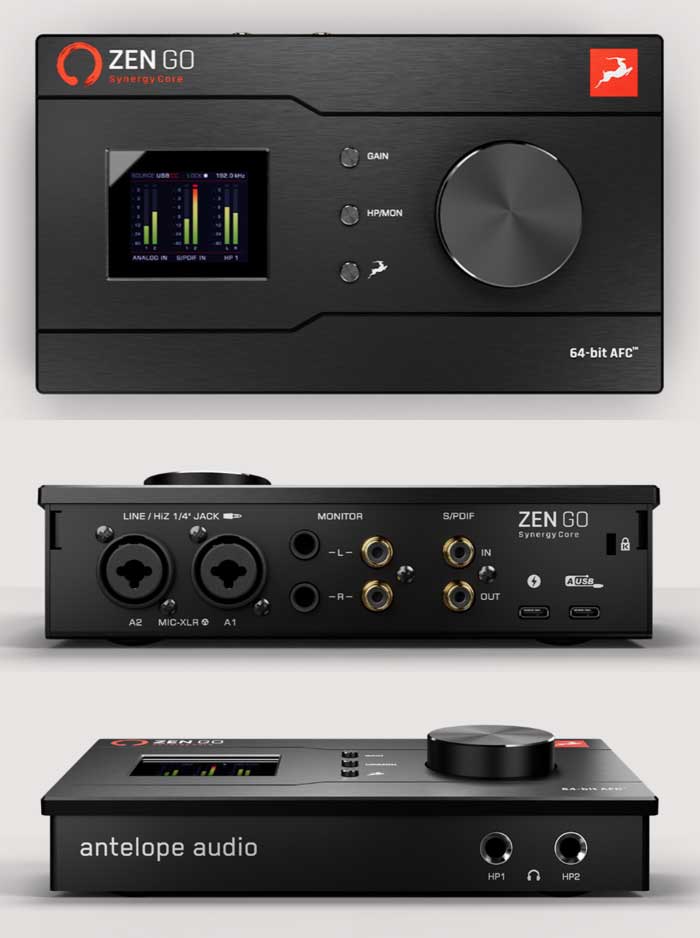 Record with the sound of legends
We carefully picked a fine selection of 37 of the most useful and sought-after effects and included them with every Zen Go Synergy Core. This free library of analog-modeled compressors, EQs, mic preamps, guitar amps & cabs, along with our signature AuraVerb, gives you all the tools you'll need to create stunning, sonically rich productions without spending any extra money.
Beyond the 37 free effects, the ever-expanding Synergy Core library offers over 50 more as optional expansions – including emulations of classics such as Grove Hill's Liverpool and Gyratec's legendary EQs, as well as third-party effects such as Antares' Auto-Tune and Inertia's Instinct.
Key Features of the Zen Go Synergy Core
Conversion & Clocking
Class-leading AD/DA conversion with up to 127dB of headroom;
Recording, mixing and playback at up to 24-bit/192kHz;
Proprietary 64-bit Acoustically Focused Clocking (AFC™) technology & Jitter Management algorithm delivering increased width, separation, and detail in musical performances.
Connectivity
2x Discrete ultra-linear preamps with 65dB of gain for studio-quality recordings. All work as microphone/line/Hi-Z inputs, on combo XLR jacks;
USB-C port carrying up to 8 input and 8 output channels in any popular DAW with custom macOS & Windows drivers;
Secondary USB-C port allowing reverse-charging;
Digitally expandable over S/PDIF;
Analog monitor outputs including 1x stereo output over RCA and 1x stereo output over TRS (mirrored);
2x stereo headphone outputs with separate gain control, compatible with wide variety of headphones.
Workflow-Enhancing Features  
Bus-powered interface – powered by the USB connection without need for a dedicated power source; 
Direct monitoring with Synergy Core effects, processed in real-time with imperceptible latency; 
Simplified I/O routing with pre-configured settings, allowing immediate recording and playback; 
Front panel with dedicated volume knob and buttons for frequency adjustment, and hands-on control of core parameters; 
Customizable presets with signal routing, level adjustments, mixer and effects settings; 
Customizable monitoring mixes with adjustable volume, pan and reverb. 
Real-Time Effects Processing  
Collection of 37 Synergy Core effects modeled after classic and rare analog outboardgear; 
Synergy Core proprietary onboard platform powered by DSP & FPGA chips for real-time effects processing with imperceptible latency. 
Included Synergy Core Effects
2 Preamps (GyrafGyratecIX, BA-31)
4 Equalizers (incl. VEQ-1A, VMEQ-5)
5 Compressors & Limiters (incl. Stay-Levin, FET-A76, VCA160)
22 Guitar Amps & Cabs (incl.Bluelux1x12, Tube Guitar Amp)
2 Special Processing Effects (Expander, Noise Gate)
1 Reverb Effect (Auraverb)
1 Guitar Tuner (A-Tuner)
MAP $499.00
Where to buy: