Amy From the Hertz Commercial
MikesGig is supported by its audience. When you purchase through links on our site, we may earn an affiliate commission. Read the full disclosure HERE.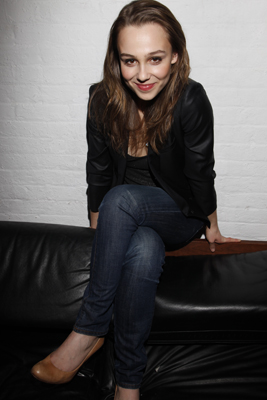 Recently named one of Music Connection's Hot 100 Unsigned Artists, Amy Regan is quickly becoming one of New York's most talked about rising talents. She plays consistently to packed rooms at NYC singer/songwriter hotspots including Rockwood Music Hall and The Living Room and has received rave reviews from Alyssa Rashbaum (MTV, SPIN, VIBE), Music Connection Magazine, and numerous blogs. Most recently, Regan and her song "Carry On" (from her debut EP "And then there is this") have been featured in a national Hertz commercial, and she's released a new EP, Gonna Get Better.
Regan is often compared to artists such as Fiona Apple, Joni Mitchell, and Laura Nyro; her music fuses lyrical integrity with a pop sensibility, creating a sound that is instantly accessible but will ultimately resonate with the listener on a deeper level.
Regan grew up in a small town in northern NJ, taught herself piano at age 11, got a guitar for Christmas when she was 13, and within a few months was writing music every day. She graduated from Skidmore College with a music major in 2007, where she led a 5 part band, fell in love with the Beatles, and spent late nights holed up in the campus studio confirming what the rest of her life would be like.
Support the Artist—amyregan.com
Anaheim, January 16, 2011—At the Breakfast Session, NAMM awarded this commercial a 2010 Wanna Play? Award, honoring companies outside of the music products industry whose advertisements inspire more people to make music.