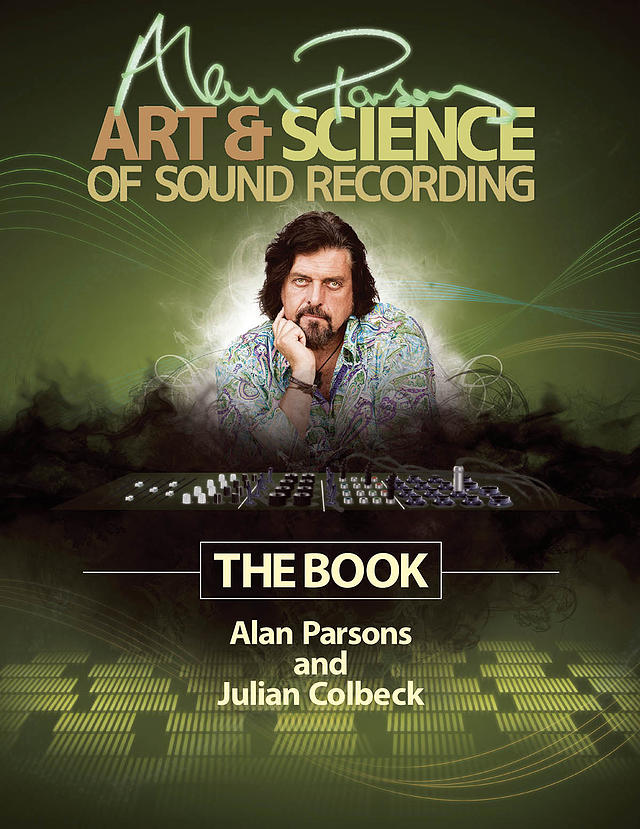 Alan Parsons' Art & Science of Sound Recording
MikesGig is supported by its audience. When you purchase through links on our site, we may earn an affiliate commission. Read the full disclosure HERE.
Alan Parsons and Julian Colbeck to present ASSR, The Book based on the award-winning DVD set at the 137th AES in Los Angeles
Montclair, NJ (September 24, 2014) – Alan Parsons' Art & Science of Sound Recording: The Book, is a complete rewrite and reappraisal of the award-winning video series. Parsons takes his approach to sound recording to the next level as the book provides ample space to present more technical background information, more detailed diagrams, and more in-depth discussion on each of the twenty-four topics, from "A Brief History of Recording " to the now-classic "Dealing with Disasters."
Written with the DVD's co-producer, musician, and author Julian Colbeck, ASSR: The Book offers readers a classic "big picture" view of modern recording technology in conjunction with an almost encyclopedic list of specific techniques, processes, and equipment. The Book has a logical flow of chapters, looking at how sound is created and how it behaves before moving on to the different processes of manipulating sound recordings such as EQ, reverb, delays, compression; covering how to work and record with live musicians as well as the art and science that go into the mixing process.
"With the videos we strove to keep you visually and aurally entertained. Now, you can be reading this at home, or in a busy Starbucks, or on a plane… you can read one page at a sitting or one chapter, or just dive in here and there using the index or the glossary," said Parsons.
For all its heft and authority – authored by a man trained at London's famed Abbey Road Studios in the 1970s – ASSR: The Book is also written in plain English and is packed with priceless anecdotes from Alan Parsons' own career working with the Beatles, Pink Floyd, and countless others. Not just informative and packed with colorful pictures, but also highly entertaining and inspirational, ASSR: The Book is the perfect platform on which to build expertise in the art and science of sound recording.
Alan Parsons and Julian Colbeck will present ASSR, The Book at AES in Los Angeles with a book signing on October 10, 2014 at 12 pm in the
Hal Leonard booth #1141.
About the Authors
Alan Parsons' recording career got off to a great start with the Beatles when he served as their assistant engineer on Let It Be and Abbey Road. With an illustrious engineering career that included The Dark Side of the Moon, Parsons went on to become one of the most sought-after producer/engineers of the seventies and eighties, scoring No. 1 hits with multiple artists. In 1976, he formed the Alan Parsons Project, enjoying multiplatinum success with hits such as "Eye in the Sky", "Time", and "Games People Play". Parsons remains an active recording artist and producer.
Julian Colbeck was a professional keyboardist for over twenty-five years, working with Yes/ABWH, Steve Hackett, John Miles, and his own group, Charlie. He has also authored a dozen books on music and music technology, including the groundbreaking Keyfax series, and he has written and produced numerous instructional DVDs on recording, live sound, and synthesizer technology. CEO of Keyfax NewMedia since 1994, Colbeck has most recently been on active duty with the creative and advocacy platform Musicians Guild.
Hal Leonard Books is an imprint of Hal Leonard Performing Arts Publishing Group – please visit alanparsonsbook.halleonardbooks.com.