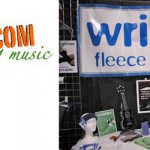 Protecting your hands
MikesGig is supported by its audience. When you purchase through links on our site, we may earn an affiliate commission. Read the full disclosure HERE.
Keeping your hand or wrist warm while playing with Wristies, they keep my hands warm.
Short Wristies and long Wristies keep hands and wrists warm when fingers need to be free for guitar playing, practicing at the keyboard or running errands around town when temps are low. For anyone who needs extra warmth and protection.



All products made in our factory in the USA.
"I remember one spring we had a gig in Lake Chataqua, NY. It was early May and the resort had no furnace. There was a freak snowstorm the weekend our band played and temps in the bar were below freezing. These sure would have come in handy. Needless to say – we drank a lot of schnapps that weekend."
-Mike