Jackson Browne, at NAMM 2011, Anaheim, CA, demonstrates his favorite guitar at the Gibson press conference to launch his Gibson signature model line of acoustic and acoustic electric guitars. For over 40 minutes Jackson talked, played and even sang a little to a throng of reporters and adoring fans. I was able to snag a near front row vantage point next to the OC Register and Getty Images.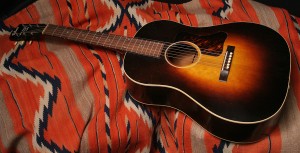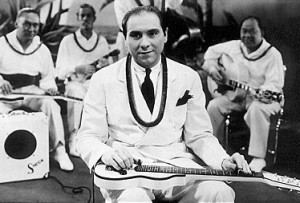 The Jackson Browne Signature model was inspired by Gibson's legendary 1930s-era Roy Smeck model—several of which are among Browne's own prized collection of vintage Gibsons. Jackson's goal was to have Gibson recreate the vibe, feel and big beefy sound of the Smeck which was actually a lap steel with no frets. Players, like Jackson, have had this model converted to a fretted guitar because of its full tone and thunderous volume. The Model A version of the Jackson Browne Signature Model also carries a hand-made internal audiophile-grade Trance Audio Amulet Pickup System.
In this video Jackson talks about the evolution of the guitar and the philosophy of the acoustic-electric. He then demonstrates how the guitar sounds running through a high-end acoustic guitar optimized stage combo and a Fender budget combo.
He went on to discuss the importance of good quality pickups and electronics that are easy to install and the importance of the saddle to the sound of the guitar. A larger and wider saddle, like on the JB Signature, transmits more energy from the strings to the top. It's interesting to hear the difference in two identical guitars that both sound beautiful yet have slightly different in character.