French Luthier Sebastien Aquilina presents his designs with P bass and J bass pickup configurations
Kevin Reveyrand Signature Model Sirius 34 KR Passive
As with all Aquilina Basses the craftsmanship and attention to detail is superb. The main thing, as with any instrument, is how does it play and how does it sound? Fundamentals are strong and punchy and even across the whole range of the instrument. Overtones are crisp and clear – verging on piano-like – but not brittle or overbearing. Harmonics are intense.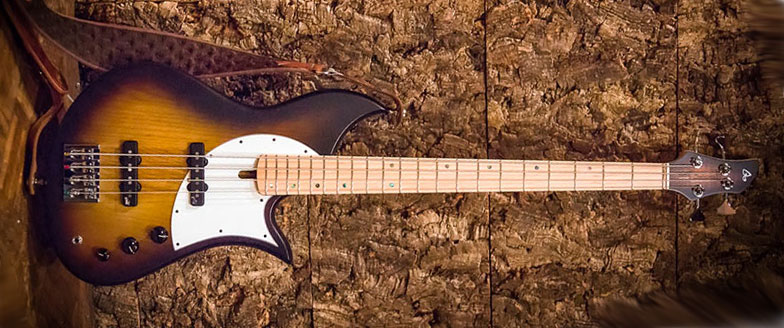 I played the Aquilina Sirius 34 KR bass at my weekly blues jam here in Huntington Beach to see what it would do in a live gig setting. I'm tuned into the sound of this room and stage and my first impression of this bass was WOW! Compared to my usual basses, a G&L JB-2 4-string and an Aria AVB-025T 5-string, the KR was appreciably bigger, bolder and badder. The playability was a joy with low buzz-free action and a narrow "C" shaped neck profile. This bass has a heavy sound yet is very light at a mere 7.28 lbs!
The KR sat very well in a blues and rock setting. You can get the usual range of tones that you would expect from a classic J bass configuration, with added nuances of expression. Dig in with your fingers, pluck with your thumb, palm mute, pluck by the bridge or neck – it works well with the full range of playing techniques.
The setup on the KR was perfect right out of the box. Frets were perfectly rounded and crowned and visually consistent when sighting down the neck. Harmonics were spot on. The fretboard is bound with thin maple strips – so there are no sharp fret edges. Neck pocket is extremely tight.
Sirius 34 KR Specifications
Neck :
• Bolt on solid US maple/angled headstock with satin finish
• US maple fretboard with maple binding and satin finish
• Thin classic guitar frets
• Carbon and steel truss rod
• 34″ scale
• Compound radius – 9.5″ nut/12″ at 21st fret
• Width – nut 1.55″/21st fret 2.4″
• Zero fret
Body :
• Swamp Ash exposed grain/contoured (custom options available)
• Sunburst satin finish
Electronics and Hardware:
• Passive electronics, volume, volume, tone (CTS pots, Orange Drop Cap)
• Vintage style black knobs
• Aguilar AG 4 J-70 pickups with 70s jazz positioning
• Hipshot Ultralite® chrome machine heads
• Hipshot A Style bridge .75″ spacing – aluminum/chrome
• Strap locks included
• Aquilina Basses softbag
Weight: 7.28 lbs./3.3 kg.
Handmade in France
Price:
4 string: starting at $2660
5 string: starting at $3060