Old Timey Instrument Making a Comeback in the New Millenium
The Holloway booth was a real crowd-stopper at NAMM 2011. People were struck by this unusual guitar that has jumped out of the history books and is enjoying a "worldwide resurgence", according to company founder Scott Holloway. The instruments are beautifully crafted and sound wonderful, especially in the hands of a master like Stephen Bennett.
Holloway Model 5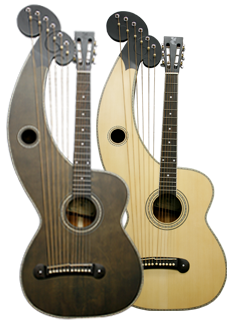 This harp guitar is inspired by the legend of Sharlie, the mysterious Lake Dragon of McCall Idaho, where Holloway Harp Guitars originated. Model 5 derives its classic design from early 1900s instruments, with all original details in mind.
Top Wood: Spruce (Stained)
Back & Sides: Mahogany
Fingerboard: Dark Rosewood
Nut Width: 46mm (1.81″)
Bridge Wood: Dark Rosewood
Finish: Nitrocellulose
Fretboard dot Patterns: 3rd, 5th, 7th, 9th, 12th (double dots) and 15th
Neck attachment method:   Set-neck, with adjustable single action truss rod
Guitar saddle, guitar nut, bridge pins, bass nut made from genuine bone
Bass tuners:   Heavy duty high quality banjo tuners
Guitar tuners:   Vintage style slotted peghead tuners
Wood Rosettes and Purfling, Single Action Truss Rod
In the Video Stephen Bennett Plays the Holloway Model 5
All Holloway harp guitars will come with:
Custom made harp guitar hard case
Case lock and key
Allen wrench for truss rod adjustment
High quality phosphor bronze acoustic guitar strings (pre-installed)
6 high quality phosphor bronze sub-bass strings (pre-installed)
High to low sub-bass string gauges: .052″, .056″, .062″, .070″, .074″, .084″
Holloway can alter some of the specifications, strings, tuners, and intonation setup, as well as install custom pickup systems. Please contact Holloway directly for more information regarding customization to your new harp guitar!
Harp Guitar History
The harp guitar (or "harp-guitar") is a stringed instrument with a history of well over two centuries. While there are several unrelated historical stringed instruments that have appropriated the name "harp-guitar" over the centuries, the term today is understood as the accepted vernacular to refer to a particular family of instruments defined as a guitar with any number of additional unstopped strings that can accommodate individual plucking. The word "harp" is now a specific reference to the unstopped open strings, and is not specifically a reference to the tone, pitch range, volume, silhouette similarity, construction, floor-standing ability, nor any other alleged "harp-like" properties. To qualify in this category, an instrument must have at least one unfretted string lying off the main fretboard. Further, the unfretted strings can be, and typically are, played as an open string.
This family consists of an almost limitless variety of different instrument configurations. Most readily identified are American harp guitars with either hollow arms, double necks or harp-like frames for supporting extra bass strings, and European bass guitars (or kontragitarres). Other harp guitars feature treble or mid-range floating strings, or various combinations of multiple floating string banks along with a standard guitar neck.
Holloway Harp Guitars are based on the design of the 1909 Dyer Harp Guitar, owned by Stephen Bennett's great-grandfather, and passed down to him through three generations. Only a very few of the best modern harp guitar luthiers have possibly ever equaled or surpassed this original.