Melding Convenience and Multiple Tonal Capabilities, The FR-310 Was Designed With The Field Recording Video and Photo Professional In Mind.
The MXL FR-310 video microphone delivers sound that is as focused as the video. Mount it onto a camcorder or DSLR camera, and it allows the user to cut to tighter, cleaner sound recordings. The FR-310 shuts out sound from the sides and back, with a pickup pattern that targets sound in front of the camera. Three gain settings pull in the right amount of sound in close-up or long shot situations, while a bass roll-off switch removes low-frequency noise. The integrated windscreen helps block wind noise, which aids in keeping the sound in the picture.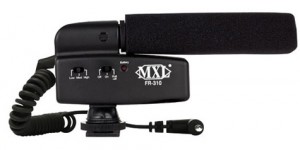 "HD video has become a mainstay with today's artists and promoters. With that in mind, MXL developed the FR-310 in an effort to provide a high quality shotgun microphone that will deliver an accurate reproduction while under a variety of demands and challenges that occur as a result of being mounted to the top of a camera. The FR-310 offers ease of use and connection to a camcorder or DSLR with the included hot shoe mount, which makes the whole experience significantly more user friendly than previous solutions," stated Jim Mona, National Sales Manager for MXL Microphones. "That convenience, coupled with the 3-position gain switch and high pass filter, provides the A/V pro with a selection of relevant tonal options."
Features:
• Three-position gain switch
• Bass roll-off (high-pass filter)
• Standard hot shoe mount
• Up to 500 hours per AAA battery
• Integrated foam widescreen
MSRP $149.95
About MXL:
MXL is division of Marshall Electronics. MXL is a leading manufacturer of consumer and professional audio products for the music recording, broadcast, post, production, and live sound markets. Additional information on the FR-310 and all MXL microphones can be found at www.mxlmics.com.