If you love music, prepare to fall in love all over again.
Rediscover the thrill of deeper richer lows, superior clarity, increased upper harmonic detail and better overall audio performance from your iPhone®, iPad® and iPod touch® with our new SonicMax Pro.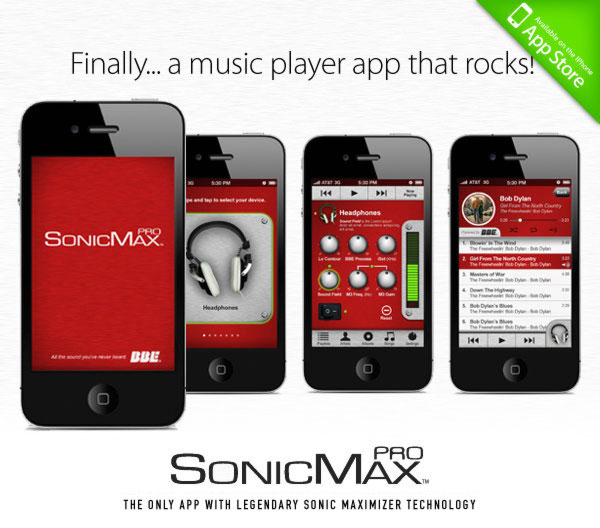 If you're already a Sonic Maximizer® fan, you know you're gonna love this app. For those who have never experienced BBE's critically acclaimed HD-audio technology, get ready to enjoy the warmth and definition that's been missing from the way you listen to music. With SonicMax Pro, you can simply choose from our list of presets or find your own sonic sweet spot by creating a custom preset to match your taste and music.
And unlike other apps, there are no gimmicks with SonicMax Pro.
There's no special equipment to plug in. No additional downloads to buy. No limits to your listening. Just load it, launch it, and love it.
To learn more about the must-have app for every musician, aspiring DJ and music fanatic, visit. Or if you can't wait to hear the purity of professionally refined sound…
By the BBE SonicMax Pro App for iPhone, iPad, and iPod touch today at the Apple App Store for just $4.99.
What the Pros are saying about the new BBE SonicMax Pro App
"I've been using BBE professional products in my studio for years. To have the SonicMax Pro on my iPhone is a sci-fi dream come true." – Tony Visconti, bassist and legendary producer [T.Rex, Moody Blues, David Bowie, Alejandro Escovito]
"The BBE SonicMax Pro has turned my iPhone and Jambox into an amazing sound system. If you find the audio lacking in your iPhone, THIS IS THE APP FOR YOU!!!" – Elliot Easton, guitarist for The Cars
"[The BBE SonicMax Pro] KILLS the sound of the standard iPod app…really making my headphones bump! I use the pro sound Sonic Maximizer gear for live performance and now I have the SonicMax Pro for music on the go. If you are an audiophile gear junkie like me, you NEED the SonicMax Pro."
Ethan Roberts, Musical Director and guitarist for Selena Gomez and The Scene
"BBE has done it again! Taking us all into the future of sonic transportation. Making it easier than ever to get great sound anywhere or anyhow…"
Jake Cinninger, guitarist for Umphrey's McGee